Ghanaian giant who's the world's tallest man appeals for medical support
29-year-old Sulemana Abdul Samed, the Ghanaian giant reported being the world's tallest man has appealed for medical support.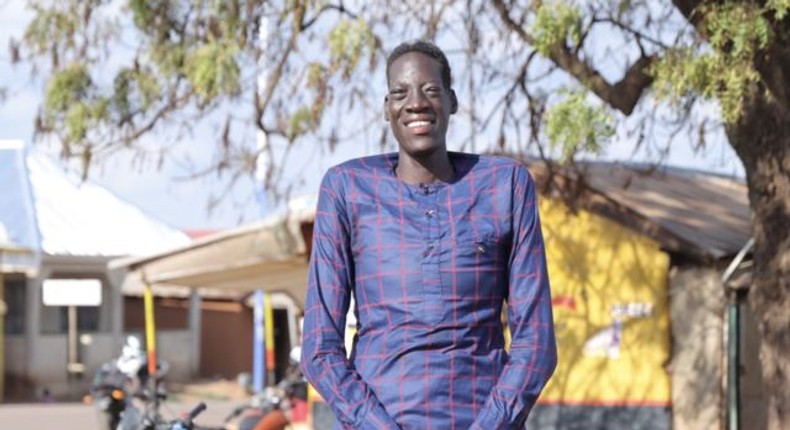 Popularly known as 'Awuche', which means "let's go", Sulemana is physically unfit.
'Awuche' who is 9ft 6 inches has been diagnosed with gigantism a few years ago was attending a monthly appointment to deal with the complications of living as a giant when he was asked to stand straight against a measuring rod.
He said he was not surprised to hear he was taller, given he has never stopped growing - but it caused consternation for the staff, who were not prepared for such a scenario.
The duty nurse called out to her colleague, who in turn called out to another for help. Before long a group of nurses and health assistants gathered to solve the puzzle of determining his height.
One suggested they find a pole and use it as an extension above their stick to measure his height - and this is how they arrived at their estimate.
For each hospital visit, he must still raise about $50 (£40).
His health problems eventually forced him to return to his home village six years ago and give up his dreams of becoming a driver.
Pulse Ghana
Pulse Ghana
"I was planning to go to driving school, but even when I shift the seat back, I can't hold the steering wheel… I can't stretch my leg because my knee will knock the wheel," he said.
He is now living with his brother - and gets by after setting up a small business selling mobile phone credits.
Recommended articles
Asantehene celebrates 1st Akwasidae in 2023
Yagbonwura Tuntumba Boresa I is dead
Jomoro MP, constituents demand justice for West Hills Mall killing
Increase taxes on sugar-sweetening beverages, cigarettes, and alcohol – Govt told
Urge China to support Ghana's debt restructuring – Akufo-Addo to Germany
11 years old N'Adom Darko-Asare wins spelling bee 2023
MTN Ghana to increase data prices effective February 7
18 unrealized pledge by Akufo-Addo, Martin Kpebu recounts
E/R: Troops deployed to calm residents pursuing nomadic herdsmen over murder in Mame Krobo