Man sentenced to 40 years imprisonment for burning wife and 3 children to death
A 45-year-old Ugandan man will turn 85 by the time he finishes serving a 40-year jail term handed down to him by a court for burning his wife and three children to death.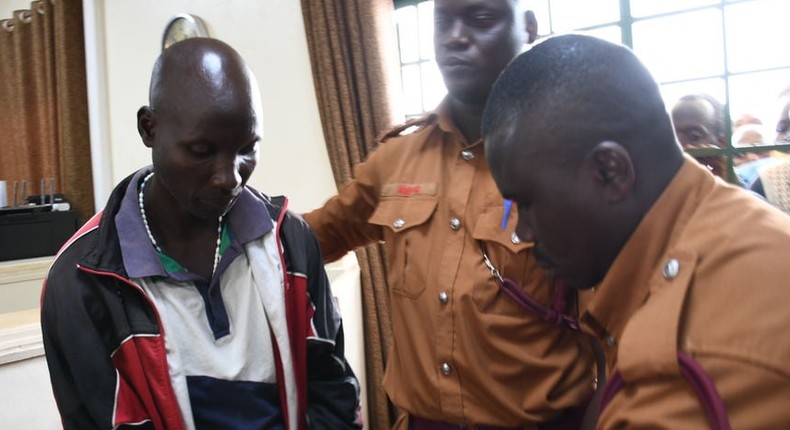 Vianney Armstrong Ahimbisibwe, from the country's Kigezi Sub-region, appeared before Kabale High Court on Wednesday, February 22, 2023.
He pleaded guilty to committing the crime in Habutobere Village, Muko Sub-County in Rubanda District, Tuko.co.ke reports.
According to the news website, Ahimbisibwe torched the house, killing his wife Rovinah Muheki, 43, his sons Edwin Tumworobire, 17, and Westlife Akampumuriza, 15, and daughter Maria Akwire Akinamushabire, 5.
The court presided over by Justice Samuel Emokor ruled: "While the convict asked for a lenient punishment, appeared remorseful and regrets his actions, the court contends that the offences he committed were grave and calls for a death sentence once proved guilty," the judge ruled.
"Putting into consideration the submission of the state prosecution calling for a deterrence sentence by punishing the convict based on the number of people he murdered, the fact that he did not take the lives of foreigners but his immediate family members to achieve his pre-determined evil motives, he is hereby sentenced 40 years for each count of murder."
The court sentenced Ahimbisibwe to 15 years in respect of the charge bordering on arson, giving him another two years for assaulting and causing actual bodily harm to his only son who survived the fire.
Meanwhile, the convict will spend 38 years behind bars because he had already been on remand for one year and eight months.
All the sentences will run concurrently.
Recommended articles
Expect more flooding in Accra - Ghana Meteorological Agency warns
Alan cannot be the solution to the mess he participated in creating — Sammy Gyamfi
Alan Kyerematen quits NPP: Read his full resignation speech
Here are 5 reasons Alan Kyeremanten will contest 2024 elections as an independent candidate
I'm resigning from the NPP to contest as an independent candidate – Alan Kyeremanten
About 2.4 million Ghanaians suffering mental illnesses — WHO
Accra Regional Police Commander summoned for assault on #OccupyJulorbiHouse protestors
NDC MP Francis Sosu presents bill to remove 15% tax on sanitary pads
Insurance Companies In Ghana: Knowing the board of Prudential Life Insurance