Soldiers demoted for beating residents in Wa
The Ghana Armed Force has punished all military personnel in Wa barracks who were on duty on July 1, 2021, when some of them brutalised residents.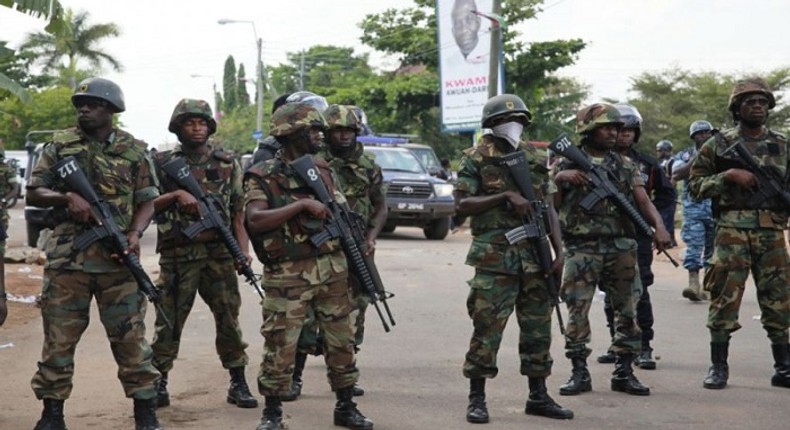 Three of the soldiers have also been demoted.
A 4-member committee was tasked to investigate the assault in the Upper West Region after its preliminary findings concluded that the soldiers must be punished.
The soldiers are; the Orderly, Guard Commander, and the Sentry.
The Orderly has been demoted from Staff Sergeant to Corporal whilst the Guard Commander and the Sentry have been demoted from Corporal to Private and Lance Corporal to Private respectively.
On Thursday, July 1, 2021, a video surfaced online and shows numerous military men in uniform flooding the streets of Wa and assaulting every resident on sight including a pregnant woman, a mentally ill man, and the Public Relation Officer of the Upper West Regional Coordinating Council.
Some eyewitnesses said the soldiers claimed they were searching for their stolen mobile phone.
The unruly soldiers allegedly claimed that the mobile phone of one of them was snatched by an unknown person Wednesday night.
A teacher who was going home after school also fell victim to the incident. He narrated that the soldiers even dared them to call the police if they wanted, saying they would beat the police too if they tried to interfere with their criminal activities.
They stopped moving cars, motorbikes, and tricycles and assaulted occupants.
The Public Relations Officer of the Upper West Regional Coordinating Council Cletus Awuni who tried to question the unruly soldiers got severely beaten and tasered, and he had to seek medical treatment at the hospital.
JOIN OUR PULSE COMMUNITY!
Recommended articles
CEO Pryme supports East Legon fire victims
VIDEO: New Juaben Traditional Council Installs Nana Kwaku Boateng III As Paramount Chief
Thief forced to eat a full bunch of unripe plantains (video)
We fought to make Akufo-Addo President, but we're hungry – Machoman cries (video)
Your Arise Ghana demo cannot go beyond 4pm – High Court directs
"Delay isn't denial" - Woman starts studying law in 2011, finally makes it in 2022
Ghana Drunkards Association launches E-Drink app to save members' lives (video)
Conflict of interest scandal hits Akufo-Addo's government, Deputy Sanitation Minister fingered
Akufo-Addo has received over ¢500billion in grants yet he has nothing to show for it – Sammy Gyamfi