Blame your Economics teacher if you don't understand 'digitised economy' – Bawumia
Vice President Dr. Mahamudu Bawumia has fired back at persons criticising the government's efforts to institute a digitalised economy.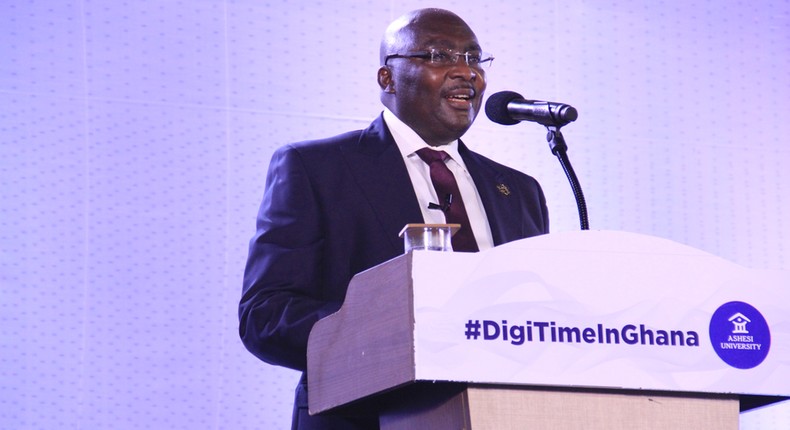 According to him, the term 'digitised economy' is self-explanatory for anyone who has read Economics in school.
In what appeared like a swipe at his critics, he urged those to do not understand the term to blame their Sixth Form Economics teachers.
Dr. Bawumia said this during an address at the 76th graduation ceremony of the Trinity Theological Seminary, Legon, on Saturday.
"Ladies and gentleman, the digitised economy is a massive economy," the Vice President said, as quoted by 3news.
"That should be obvious to anybody who has done Sixth Form Economics and they should understand."
"But if you don't understand that it is a massive economy, then you shouldn't blame me. You should blame your Sixth Form Economics teacher."
Recently, Dr. Bawumia and the NPP administration were criticised by John Mahama, who accused the government of running the economy into a ditch.
Pulse Ghana
The former President said beyond all the economic jargons being thrown around, the ordinary Ghanaian continues to suffer.
"Beyond these spirited linguistic acrobatics, the plain truth, which we all see and feel, is that the Ghanaian economy is in deep crisis," Mahama said during his recent tour of the country.
"At the micro level, we feel the heavy impact of a troubled economy when we go to the market and find prices of basic items rising with alarming rapidity."
However, Bawumia defended the gains chalked by the Akufo-Addo government, insisting putting in place a digital structure has helped to tackle corruption in several public offices, while citing the Passport Office as an example.
JOIN OUR PULSE COMMUNITY!
Recommended articles
Eastern Region: Youth vandalize mining site; fingers NPP Chairman and DCE for being complicit
Nana Addo's arrogance and impunity of power caused budget rejection – Martin Amidu
Court remands Police officer for sexually harassing woman in a car
Homosexuality is a mental disorder – Akwasi Osei
NDC appreciates the wisdom of the e-levy but just posturing for public acclaim – John Boadu
Korle Bu Teaching Hospital: Mahama supports diabetes patients to mark his 63rd birthday
Election 2024: Dr. Duffuor hints of who his running mate would be (Video)
'We are criminalizing oral sex between same sex persons' - Foh Amoaning defends LGBTQ+ bill
Ghana's unemployment burden started rising under Mahama's govt - Dr. Duffuor fires