COVID-19: Ghana has no critical case - President Akufo-Addo
President Nana Addo Dankwa Akufo-Addo has disclosed that Ghana currently has no critical cases of Covid 19.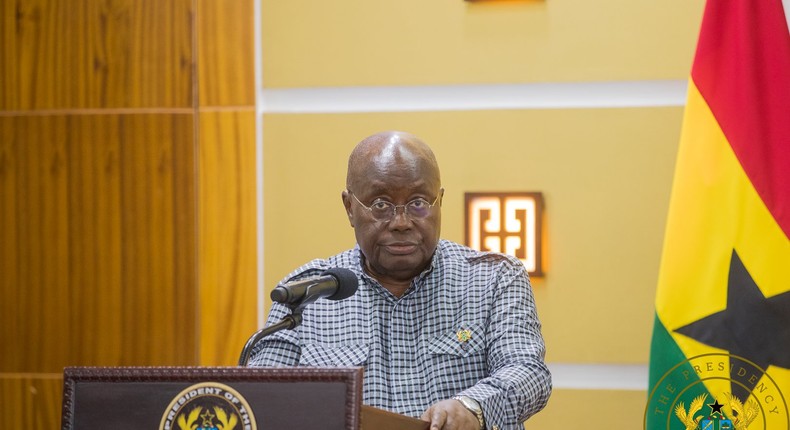 According to him, the COVID-19 pandemic is officially over in the country.
Addressing the country on his 29th address to the nation on the updates on Covid-19, on Sunday, May 28, 2023, President Akuffo-Addo said, "currently we do not have any critical case."
Adding that, "the emergency is over, this too has passed."
He, however, noted that although Ghana received free vaccines to tackle the virus, inoculating the people was very expensive.
"Vaccination was expensive," he said and further indicated that "fumigation and cleansing of markets, schools and other public places cost a lot of money."
The Ghana Health Service (GHS) recently urged the country to remove all existing COVID-19-related travel restrictions.
This was after the World Health Organization (WHO) recommended countries lift their existing COVID-19 travel restrictions.
According to WHO, the countries could exacerbate economic and social stress related to the pandemic.
It said COVID-19 was no longer a public health emergency of international concern.
Dr Patrick Kuma-Aboagye, the Director-General of the Health Service lifting the restrictions in Accra said the decision was also justified by the fact that there had been a sustained decline in COVID-19 cases in the country over the past five months
He said that based on the global and national situation, it was decided at the last national COVID-19 Task Force meeting on May 17, 2023, that: "Pre-departure testing and test at all points of entry are no more a requirement for all passengers," while from May 20, 2023, "COVID-19 health declaration form for international travellers has been suspended."
Recommended articles
Campaign team of Dr.Bawumia attempted to buy me off as running mate - Ken Agyapong
122,275 personnel for 2023/2024 deployed for service -NSS
20 perish in Peki car crash
#OccupyBoG: Demonstration scheduled for Tuesday, court rejects police request
Tensions flare as Ghanaians in London stage dueling protests over bad governance
Kufuor raises concerns over factionalism within NPP
Jean Mensa, Bossman Asare pose biggest threat to Ghana's democracy – Sam George
Election 2024: Reject Alan's empty political tactics — NDC's Afaglo
Health Ministry summons management of Korle-Bu over GH¢765 cost of dialysis