Galamsey has affected 2% of cocoa land – Agric Minister Akoto Osei
The Minister of Agriculture Dr. Owusu Afriyie Akoto has revealed that only 2% of cocoa lands have been affected by the activities of illegal mining, also called galamsey.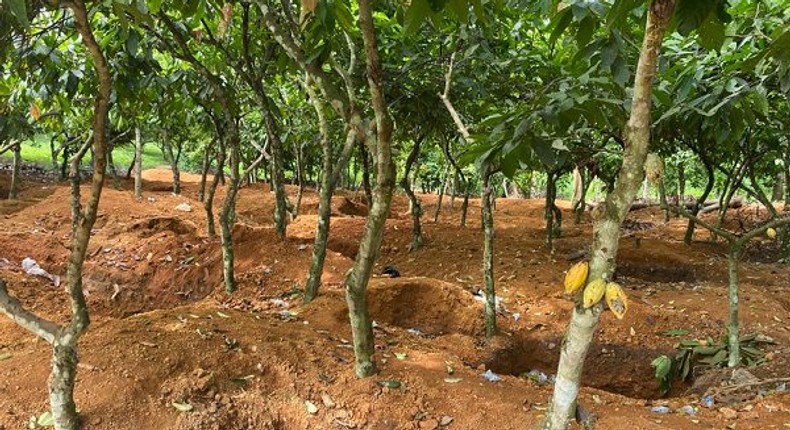 He said 'galamseyers' are not only causing devastation in forest areas but beginning to impact adversely on cocoa production figures.
In an interview with Accra-based JoyNews, Dr. Akoto expressed grave concern about the water pollution that comes with the use of chemicals like cyanide and mercury, which could end up in the food that is produced in these mining areas.
He said "For me, in terms of acreages, it is not much and I have the evidence. COCOBOD did a survey and they are saying that 2% of land under cocoa has been destroyed by galamsey. 2% is nothing.
"And cocoa is concentrated in the gold belt, so if you extend it to the north in terms of total, it is not much."
"What is very important is the water pollution, the cyanide and the other chemicals, mercury which goes into the food chain and ends up in our stomachs, you journalists don't talk about that, for me that is the most dangerous part," he added.
Last month, the Ghana Cocoa Board (COCOBOD) expressed concern about the speed at which galamsey is adversely affecting cocoa production in the country.
Illegal mining has been a major challenge for successive governments over the years due to its enormous effects on lands, water bodies, and forests.
Currently, foreign nationals, especially the Chinese have taken over and using sophisticated equipment to intensify environmental degradation.
JOIN OUR PULSE COMMUNITY!
Recommended articles
Revise SHS freshmen reopen date to January - Parliament to GES
NDC is committed to rejuvenating the joy of farming and transforming the agricultural sector - Mahama
December 4, still remains reopening date for first-year SHS – Education Ministry
GIBA frowns on NMC's actions against Onua TV/FM
Second tier of IMF relief expected next week – Ken Ofori Atta
39th National Farmers' Day celebration holds in Tarkwa
GES to revise first-year reopening date for SHS
Insights into farming costs in Ghana on Farmers' Day
2024 budget approval postponed as Majority boycotts Parliament