Nana Addo should state his clear position on LGBTQ+ — Catholic Bishop
The Catholic Bishop of Konongo-Mampong in the Ashanti Region, the Most Rev. Joseph Osei-Bonsu, has urged President Nana Addo Dankwa Akufo-Addo to state, unequivocally his position on the Lesbian, Gay, Bisexual, Transgender, and Queer (LGBTQ+) issue in the country.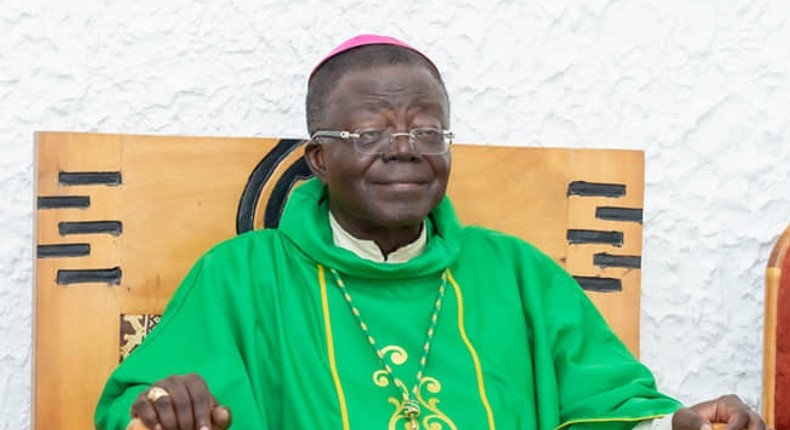 He claims Nana Addo has been inconsistent on LGBTQI+ issues.
According to him, the president of the Republic should make it clear that "homosexuality indeed remains a criminal offence in Ghana, making reference to Section 104 of the Ghanaian Criminal Code of 1960 which criminalizes consensual same-sex sexual acts between persons of the same gender."
In Nana Addo's recent comments on the LGBTQ+ issue during the visit of the American Vice President, Kamala Harris where the President said Ghana currently doesn't have any law that criminalises the activities of LGBTQ+ persons, Most. Rev. Osei-Bonsu an open letter to Nana Addo, dated April 3, 2023, said "I would also be most grateful if you could state unequivocally what your position on LCBTQ+ is. I request this because many Ghanaians are not sure of your position on this matter, while they are clear about the position of some of your predecessors who have made their positions clear and unambiguous."
Most Rev. Osei-Bonsu stated that "I am writing to you today as a citizen of Ghana in connection with three statements that you have made as President of the Republic of Ghana concerning the issue of LGBTQI+. I find inconsistencies in them and I would be most grateful if you could clarify them for me."
In August 2021, a bill was introduced in parliament to further restrict the rights of LGBT+ people.
It includes criminalizing the defense of LGBT+ rights, a duty to report "suspects", the promotion of conversion therapy, and the imposition of harsher prison sentences for homosexuality.
The anti-LGBTQ bill, titled, "The Promotion of Proper Human Sexual Rights and Ghanaian Family Values Bill 2021", was submitted to Parliament in June 2021.
The submission of the bill to Parliament elicited a major public debate over its appropriateness.
If the bill is passed by parliament, President Nana Addo Dankwa Akufo-Addo could either sign it into law or veto it.
JOIN OUR PULSE COMMUNITY!
Recommended articles
Police arrest 17-year-old boy for having sex with a cock
ECOWAS and Media Foundation for West Africa sign partnership to enhance media freedom
Thank you for having my back; I always have yours - Dampare to Security chiefs
None of our mineral resources has developed Ghana - Lawyer Jantuah
Senya Bereku residents clash with soldiers over disputed land
Ghana blows $2.6 billion to import 'Obroni Wawu', sugar and other products in 2021
Akufo-Addo's government has shown to be a listening one – Oppong Nkrumah
Good-for-nothing Special Prosecutor must get corrupt cases done — NPP Youth Organiser
Shalimar Abbiusi's parents in tears, request her release, claim she's been kidnapped