Paramount Chief distances himself from 14-day ultimatum to Agyinasare
The Paramount Chief and President of the Somey Traditional Council in the Volta Region, Togbui Adamah III has dissociated himself from the 14-day ultimatum given to the Founder of the Perez Chapel International, Archbishop Charles Agyinasare, to appear before the traditional authority by some chiefs or risk the wrath of their gods.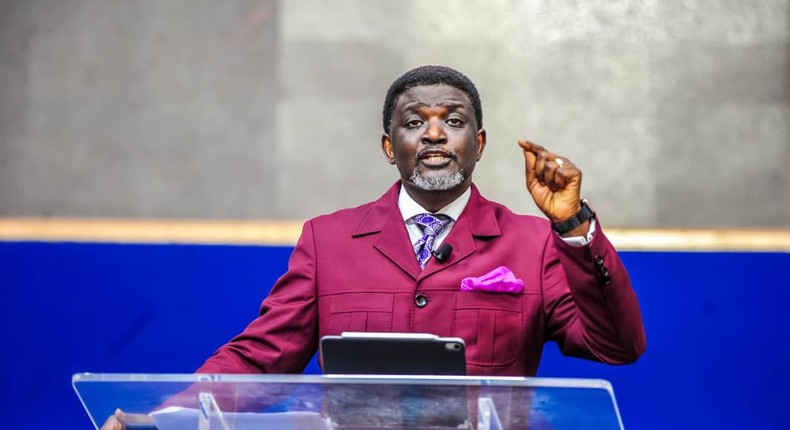 The Paramount Chief wants the public to disregard the directive.
He called for a cease-fire and peace since the Archbishop has already apologized.
Togbui Adamah III said speaking to TV3 on Monday, June 5, 2023, said "What happened at Nogokpo, I am not associated with it. Did they have the capacity to do that? On what law are they relying on?
"My chief consulted me on Monday and he asked, what should we do and the first thing I ask is, has somebody brought the case?"
"Nogokpo is the name of the town but the shrine is not Nogokpo. The shrine is Gbakadza so if you are a chief of Nogokpo and I am a Paramount chief I can only receive a complaint from my subjects who are over there superintending on issues of the shrine. So the first question I asked him was, has our people come and complained to you officially that what has happened has affected the shrine or the god? He said nobody.
"I said then wait and let us do the Council meeting then we will discuss it there and take a decision from there. So that was my instruction, then from nowhere I only heard of threat at a press conference which I don't know anything about," he stated.
Pulse Ghana
Earlier, Archbishop Charles Agyinasare said a small village located in the Ketu South Municipal called Nogokpo is the headquarters of demons in the Volta Region of Ghana after a near-tragic incident he experienced in the town.
According to him, he went to a crusade at Aflao with his pastors and had to pass through Nogokpo to the next town.
He said when they got to Nogokpo, the tyres under the four-wheel drive they were using came out under the car adding that it happened after they had preached about witchcraft and destroyed their works on the second night of the crusade at Aflao.
This angered the traditional leaders of Nogokpo and gave Agyinasare a 14-day ultimatum to appear before them for talks.
The chiefs and people, who held a press conference on Friday, June 2, 2023, said Agyinasare deliberately denigrated the peace-loving people of Nogokpo, the gods, and branded them as evil in his recent controversial comment about the town.
Recommended articles
Noah Dameh, Radio Ada journalist on trial over fake news about McDan, is dead
#OccupyJulorbiHouse Demo: Police deny arrest of BBC Journalist
#OccupyJulorbi House demo: 49 suspects arrested for unlawful violation of Public Order Act - Police states
#OccupyJulorbiHouse Demo: Police assaulted me, other protestors - Bridget Otoo shares
N/R: 9 gunned in Pusiga road attack
Let us strive to live up to the ideals Nkrumah stood for - Mahama
I won't engage in campaign of insults - Bawumia
#OccupyJulorbiHouse: Cabinet offered us $1 million to halt demonstration - Organisers
NPP is the best party to save Ghana – COP Alex Mensah