Pay us or you'll lose in December - Gold Coast customers threaten Akufo-Addo
A group identifying itself as the Coalition of aggrieved customers of Gold Coast Fund Management (GCFM) has dared to vote out the New Patriotic Party if their locked up cash isn't paid before December.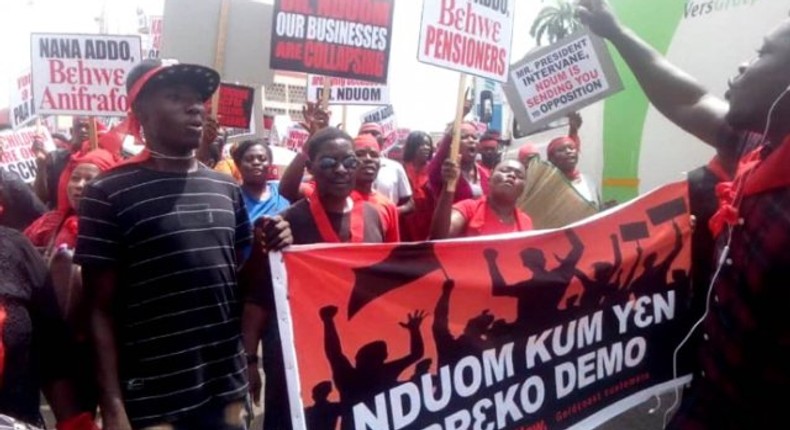 The group said failure to pay them their monies will go against the ruling government heading into the 2020 general elections.
The Public Relations Officer for the aggrieved customers Charles Nyame addressing the press Monday morning alleged that the Finance Minister Ken Ofori Atta and the Chief Executive of the Securities and Exchange Commission (SEC) Rev Ogbamey Tetteh have withdrawn their investments from the Gold Coast Fund Management.
According to him, the failure for the government to pay them their investments amounts to stealing from innocent, hardworking Ghanaians.
"No one prefers free SHS to his personal financial freedom…there is life after free SHS, our wards must continue to the tertiary after free SHS, therefore, we need our money. If Ken Ofori Atta and Rev Ogbamey Tetteh have been able to withdraw all their funds with Gold Coast Fund Management, then what we want to tell them is that we also deserve ours. What is good for the goose is also good for the gander.
"You cannot steal from innocent citizens…ladies and gentlemen, we consider the action of Ken Ofori Atta and Rev Ogbamey Tetteh as stealing from the poor Ghanaians."
JOIN OUR PULSE COMMUNITY!
Recommended articles
Citi FM boss Sammens gives NSMQ 2021 star Francisca Lamini GH¢5,000
I will not allow the government to frustrate parliament - Bagbin
2022 budget: Asiedu Nketia was too powerful for NPP MPs - Pelpuo
2022 'Agyenkwa' budget will take Ghana on the path of job creation – Koduah Frimpong
Police officer arrested for sexually harassing woman in a car
Sammy Gyamfi congratulates Parliament for rejecting 2022 'killer' budget
Weed is more important than cocoa - Rastaman tells government
Photos: Deputy Energy Minister and wife celebrate 15 years of marriage
Mahama hands over renovated dormitory block to his alma mater GHANASCO