Vodafone Ghana donate towards Farmer's Day
The 34 edition of the National Farmers Day celebration will be held in Tamale, Northern Region.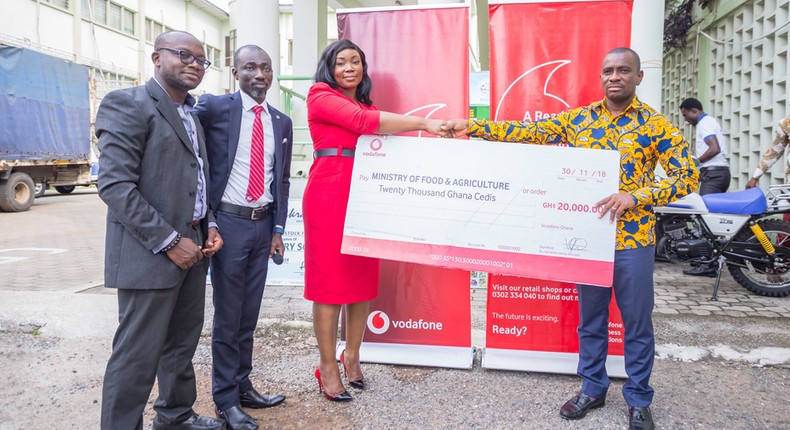 Telecommunications giant,
The package includes Ghc 20,000 for the organisation of this year's event, Vodafone souvenirs, Vodafone Farmers' Club SIMs with 12 months airtime and data as well as free access to farmers' helpline and useful information on crop and agric for all the Regional and National winners.
Additionally, the telco has announced a unique package of Ghc 10,000 cash, a Vodafone tablet, VIP access to Farmers' Club with extra airtime and data for the Best National Female Farmer, in line with its continuous commitment to empowering females in agriculture.
Speaking to a cross-section of the media during the presentation, Director of Enterprise Business Unit (EBU) at Vodafone Ghana, Angela Mensah-Poku said:
''Vodafone is excited to join in the celebration of our national heroes and heroines within the agricultural sector. We are committed to driving innovation in agriculture whilst bridging the gap between farmers and critical farming information."
"Through our Farmers' Club initiative, we have been connecting farms, agribusinesses and rural communities to drive productivity, profitability and innovation. This initiative provides farmers with access to relevant information on improved farming practices, crop information, prices of commodities and expert advice, in their preferred language.''
''In collaboration with the Ministry of Agriculture, we will from next year, reward and celebrate farmers who among other things use innovative and new technology in their operations. The category, to be titled "National Digital Farmer of the Year", will encourage and drive innovation within the sector,'' she added.
Recommended articles
Let's stop exporting raw materials while importing finished goods – John Dumelo on Farmers' Day
Agric sector grew at 8.4% which is the highest since 1992 — Akoto
Opinion: Bawumia is more like an economic Messi
Father flogs 3-year-old daughter to death for entering neighbour's room
I don't own a house in the US – Anthony Karbo debunks Kennedy Agyapong's allegations
Ofori Panin Fie never took any 'illegal mining' money - Osabarima Koh XI rubbishes allegation
Residents in mad rush to scoop free fuel from somersaulted tanker
Nurses at Manhyia hospital strike over NSS director's attack
This is time to take farmers, agribusiness seriously — Mahama's Farmers' day message