All the solutions to Ghana's problems are in NDC's 2020 manifesto – Mahama
Former President John Dramani Mahama has disclosed that the National Democratic Congress had all the solutions to Ghana's problems in their 2020 manifesto.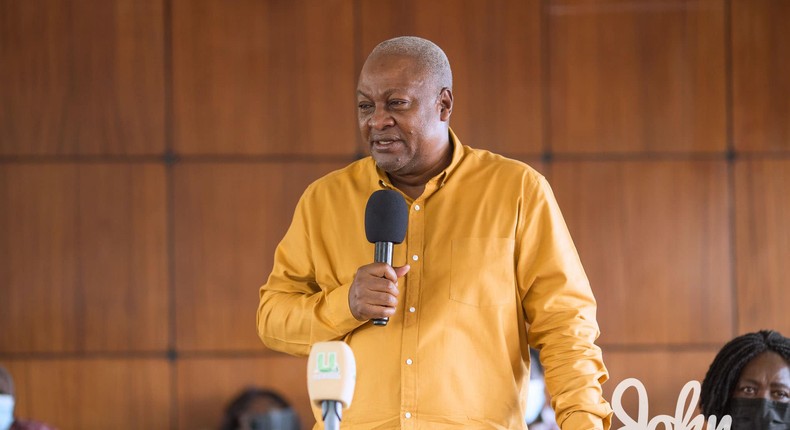 He said had the party won power in the last elections, most of Ghana's problems will be fixed.
Speaking on his 'Thank You' tour in the Eastern Region, the 2020 flagbearer of the NDC said the manifesto tackled employment, infrastructure and the economy.
"The high unemployment rate, business are suffering, the economy is collapsing. All the answers to what Ghana is going through today are in NDC's 2020 manifesto.
"The big push for infrastructure, 10 billion dollars into infrastructure to construct our roads, our hospitals, our schools, they are all in our 2020 manifesto," Mr Mahama said.
Mr Mahama further said that due to the good contents of the NDC's manifesto, that of the governing New Patriotic Party (NPP) was relegated to the background by analysts.
"After the launch of our manifesto no one discussed the NPP's manifesto, they all focused their attention on ours, the plan to create one million jobs was also in there."
While on the tour, Mahama also bemoaned the current government's abandonment of projects started by the NDC.
He made this known during a courtesy call on the Eastern Regional House of Chiefs in Koforidua on Tuesday, October 12, 2021, as part of his Thank You tour.
He said "Nananom, there's a very worrying development that I cannot avoid talking about and that is the issue of abandoned projects… Governments are enjoined to continue the projects began by their predecessors."
JOIN OUR PULSE COMMUNITY!
Recommended articles
Go and complete the E-block yourself if you're tired – Akufo-Addo to Aflao Chief
35-year-old woman commits suicide after husband grabs new lover
I made a mistake on Cape Coast harbour - Nana Addo
Accra is the second most expensive city in the world – Survey reveals
Transport fares may go up soon - GPRTU hints
Mahama won the 2020 elections but it was "shamefully stolen" – Chief
NPP is considering Ursula Owusu as running mate for 2024 elections – Kwesi Pratt
It was nonsensical to misinterpret Mahama's 'do or die' comment - Chief
Our culture doesn't accept LGBTQ+ - Nana Addo told