Hackman Owusu-Agyemang explains why NPP boycotted 1992 parliamentary elections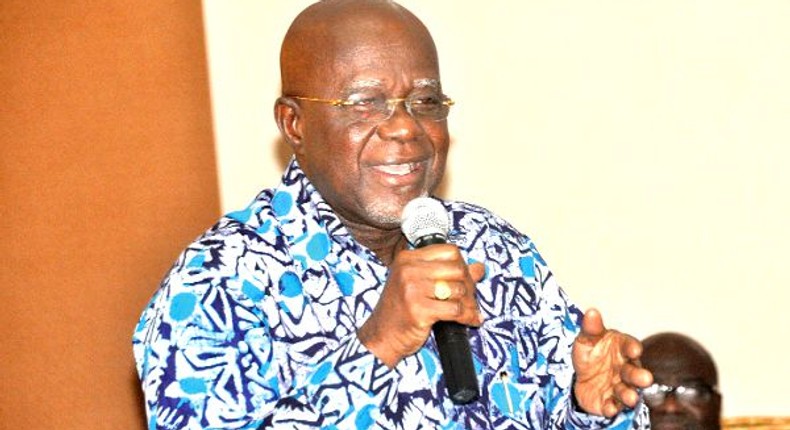 The National Democratic Congress (NDC) won 189 of the 200 parliamentary seats.
The Chairman of the New Patriotic Party's (NPP) Council of Elders, Hackman Owusu-Agyemang, has said the decision by the NPP to boycott the parliamentary elections was a mistake.
He revealed that the decision why the NPP boycotted the elections at the time was a majority position.
He said the late former President Jerry John Rawlings made life very difficult for the NPP aspirants.
According to him, "Rawlings made life very difficult for us. He decided that we should do the presidential and the parliamentary elections one week apart. There was intimidation and we believed sincerely that he did not win.
"So we came back to our headquarters at Asylum Down after the Presidential election, after we have been cheated. There, some groups thought that we should boycott the election because we knew we had been cheated. So we gave our support and vote for other candidates."
Owusu-Agyemang who served as a Member of Parliament and Foreign Affairs Minister in the administration of former President John Agyekum Kufuor stated that the boycott was a 'mistake' because their political fortunes could have changed.
"Among ourselves, we were divided. The Adu-Boahen group said we should boycott the election. Some also thought we should go in for the parliamentary election because we had the support, and we knew we could win.
"But at the end of the day, the majority decided that we should boycott the parliamentary election and do analysis. It showed that the verdict of the people was stolen by Rawlings and his team. So they went to Parliament and there was no opposition," he stated.
JOIN OUR PULSE COMMUNITY!
Recommended articles
Suspected land guards allegedly burn newly built police station
Fact-check: Did Napo sign teachers laptop contract?
Ivorian citizenship: Arrest Jomoro MP – Court issues bench warrant
UAE government announces four and half day working week; extends weekend for workers
GOIL reduces fuel prices by 15 pesewas after govt's directive
Govt's E-levy is a ponzi scheme - Sam George
Union of Professional Nurses and Midwives calls for unity among nursing unions for better welfare
Dagbon Overlord lauds National Best Farmer following visit by Agric Minister
Money is not my problem; I'm not NPP mole - Duffuor to critics