I've executed over 2000 projects - Hawa Koomson brags
The Minister made these comments after the Project coordinator for the Integrated Social Development Centre (ISODEC) Bernard Anaba, the said projects are yet to materialize in the various districts and constituencies.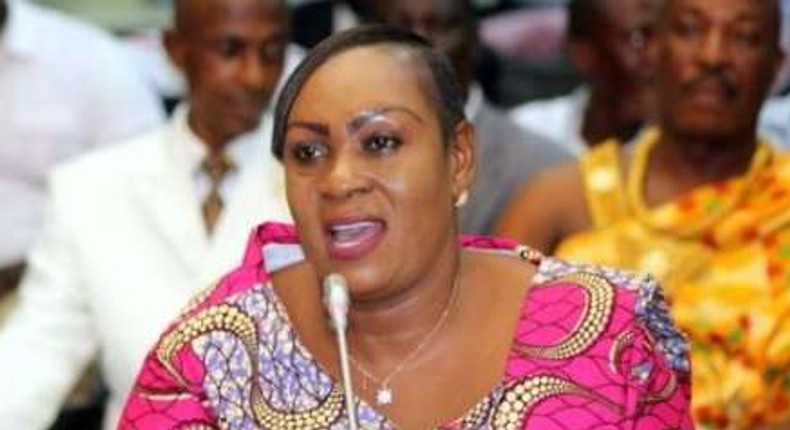 The Minister for Special Initiatives,
She, therefore, said criticisms of her are unfortunate and misplaced.
Hawa Koomson told the media at a press conference on Tuesday that over 2000 projects are ongoing across the country with each of them about 80% complete.
"Ok now go to Adentan Municipality and ask the MCE or DCE, he or she will take you to the project. I wouldn't tell you to ask the MP. Now also just walk to Kasoa…go to the new market, you will see a warehouse being constructed, and then in Kasoa go to abujukope and other areas, or you go to my MCE he will take you to the areas. Just last Monday I even went to cut sod for a community durbar ground of Ofankor, so you can go there and find out from them."
"Go to Cape Coast central, you will see a warehouse there, go to Winneba you will see a warehouse there you will see some of the toilet projects there, you will see some of the water projects", she said.
Anaba had said, "Apart from party structures in the constituencies, we do not really have other structures. We are not seeing anything at all. Things are not looking good at all in terms of the implementation. Government is talking about 3000 projects but I have not seen anything at all. I have not heard of any project in my constituency at all."
However in a strong rebuttal, Koomson said: "They should thank me, they should clap for me, just a year, a ministry that has not been in existence. I came to put up this structures with the ministry and the development authority, and yet we've been able to do over 2 000 projects, they should stop that noise. This is not time for campaign, hey should wait when its 2020 and we go to the grounds and we don't see those projects then they can tell the voters what we have done or have not done."
JOIN OUR PULSE COMMUNITY!
Recommended articles
7 Ghanaian MPs and their beautiful spouses
Eastern Region: Body of missing Chinese man found dead in dam
Ghanaian Social Studies teacher jailed 7 years for sodomising 18 pupils
We'll resist any attempt by you to disenfranchise Ghanaians - CDD-Ghana to EC
#FixTheCountry procures 5000-acre land to create jobs for Ghanaian youth
We need a national dialogue on the worsening economy - Mahama
Chief Imam blesses Ablakwa, Ghanaians say his 'presidential ambition' is cemented
Public toilet attendant bathes customer with faeces over 50 pesewas (video)
Your exceptional leadership in West Africa appreciated by the US – Nana Addo told