Nana Addo comes nowhere near Mahama's anti-corruption record - Afriyie Ankrah
Elvis Afriyie Ankrah, the Director of Elections for the National Democratic Congress (NDC) has said President Nana Addo Dankwa Akufo-Addo does not come near John Mahama in the fight against corruption in the country.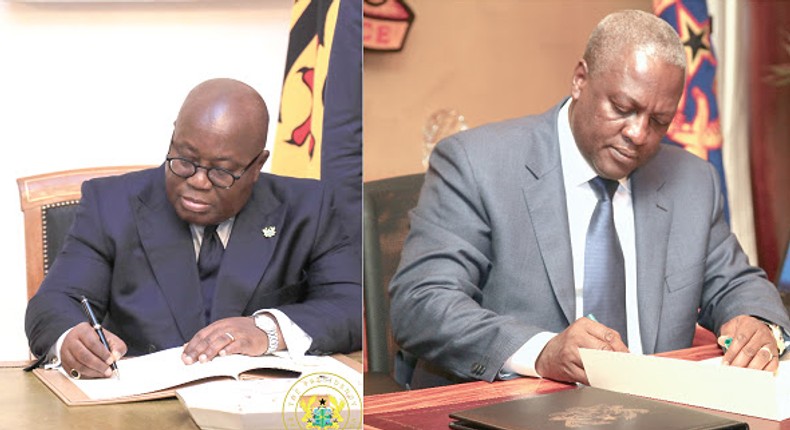 According to him, Nana Addo cannot deal with the massive corruption scandals under his government.
He said the inability of the NPP government to prosecute corrupt cases shows its lack of commitment to fighting the canker.
He said the President has demonstrated that he lacks the will to fight the corruption menace even among his appointees.
Afriyie believed that Mahama has superior records against Nana Addo in the fight against corruption.
Earlier, the NPP has taken a swipe at Mahama for accusing the government of being corrupt or presiding over corruption.
The General Secretary of the NPP, John Boadu said Mahama, unlike Nana Addo, cannot make any bold claim of being incorruptible because of his records.
Boadu stated that Mahama's claims of corruption against the government are unfounded.
"Former President Mahama asserts without proof that the NPP has stolen Ghana's money and that, he can ensure accountability through elections… Is that the same Mahama whose government signed onto a half-baked contract of $1.2 billion for the Ghana Retail Payments Systems Infrastructure? Sibton Switch Systems Ltd has just lost an arbitration demand for $478 million from Ghana for revoking that agreement. The Akufo-Addo administration did a far more enhanced project for only $4.5 million," he noted.
Listen to Afriyie Ankrah below:
JOIN OUR PULSE COMMUNITY!
Recommended articles
Suspected land guards allegedly burn newly built police station
Fact-check: Did Napo sign teachers laptop contract?
Ivorian citizenship: Arrest Jomoro MP – Court issues bench warrant
UAE government announces four and half day working week; extends weekend for workers
GOIL reduces fuel prices by 15 pesewas after govt's directive
Govt's E-levy is a ponzi scheme - Sam George
Union of Professional Nurses and Midwives calls for unity among nursing unions for better welfare
Dagbon Overlord lauds National Best Farmer following visit by Agric Minister
Money is not my problem; I'm not NPP mole - Duffuor to critics