Female footballer arrested for hiring masked men to injure her teammate
PSG and France women's footballer Aminata Diallo has been arrested by the Police for allegedly hiring masked men to attack her teammate in order to get more playing time.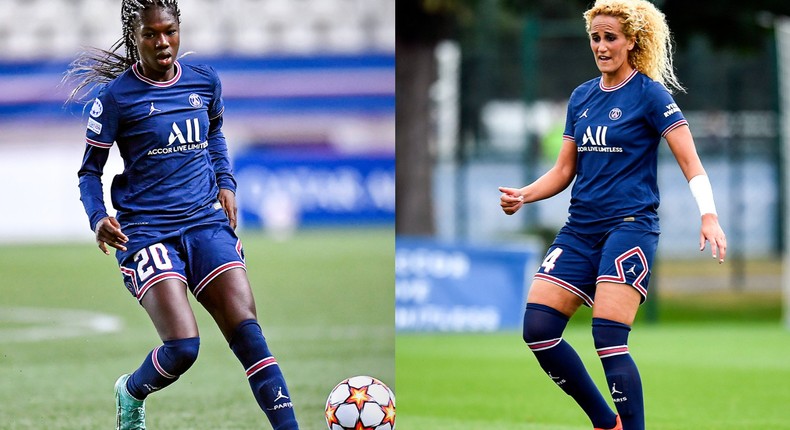 The midfielder was on Wednesday found to have had a connection with the attack on PSG teammate Kheira Hamraoui.
According to a report by French publication L'Equipe, the incident happened when the PSG women's team attended a team meal at a restaurant in Paris and were returning home.
Two masked men are said to have approached the car, which was being driven by Diallo, opened the passenger door and dragged Hamraoui out.
They then used an iron bar to hit her hands and legs before running away. The attack took place on October 4.
Hamraoui was later treated at a hospital, which caused her to miss PSG's 4-0 win against Real Madrid in the Champions League on Tuesday.
In a statement, PSG condemned the attack and said Diallo has been picked up by the Police over the incident.
"Paris Saint-Germain take note of Aminata Diallo's police custody this morning by the Versailles SRPJ as part of the proceedings initiated following an assault last Thursday evening against club players," the statement said.
"Paris Saint-Germain condemns in the strongest possible terms the violence committed. Since Thursday evening November 4, the Club has taken all the necessary measures to guarantee the health, well-being and safety of its players.
"Paris Saint-Germain is working with the Versailles SRPJ to shed light on the facts. The Club is attentive to the progress of the procedure and will study the follow-up to be given to it."
Both Diallo and Hamraoui are not at just teammates at the same club but also at international level, where they play for France.
JOIN OUR PULSE COMMUNITY!
Recommended articles
Dortmund defend Bellingham amid possible sanctions for match-fixing comment
Leipzig bring down the curtain on Marsch's unhappy tenure
Benitez the fall guy for Everton's long malaise
Real Madrid ease past Real Sociedad after Barca and Atletico beaten
Wijnaldum rescues PSG after Lens leave Messi in a daze
AC Milan move top of Serie A, Inter see off Roma
Lewandowski nets double as Bayern down Dortmund to go four points clear
Silva shines as Man City stroll to top spot in Premier League
Man City, Liverpool leapfrog Chelsea at top of Premier League