Stop demonizing Mayors - Felix
He argued that as citizens, "we need to perhaps lend more support to government and appreciate the need to support tough and very drastic measures in order to get the problem addressed."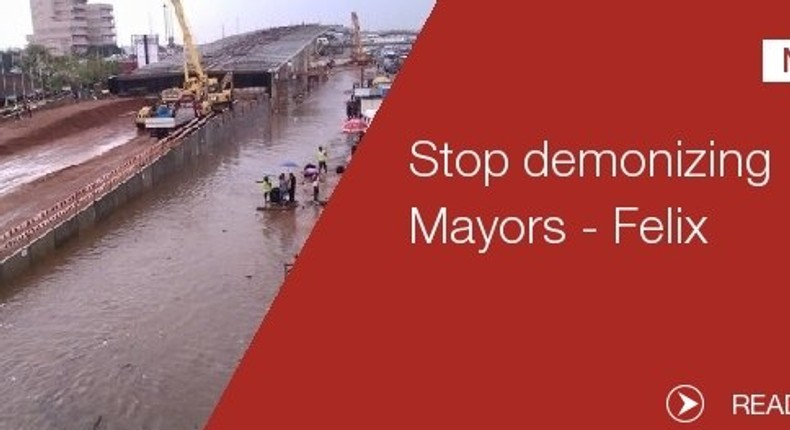 Government has appealed to Ghanaians to support its efforts at reducing the perennial flooding situation within the Accra Metropolis.
A Deputy Communications Minister, Felix Kwakye Ofosu said without such support, the situation will persist and lives will continually be in danger.
A few days after the country marked the one year anniversary of the June 3 flood ad fire disaster, the Accra Metropolis got flooded again after a few hours of rain.
A few lives were lost and properties were destroyed.
The issue has once again given rise to the debate about the measures needed to be put in place to stop the flooding situation.
Contributing to a panel discussion on Joy FM's News File programme, Mr. Kwakye Ofosu expressed worry about the demonization of government officials and agencies that take drastic measures aimed at solving the problem.
"Sometimes too we need to check our own attitude," he said. "Mayors on end have basically been demonized because of some of the actions that had to take in order to safeguard our collective interest and safety as a people."
The Deputy Minister was of the view that the situation has not reached a "hopeless state."
According to him, it is imperative for Ghanaians and opposition parties to analyse the situation in a more "holistic and considerate."
"Government accepts its role and responsibility and we believe that to the best of our ability, we are doing what it takes to address the problem," he said.
JOIN OUR PULSE COMMUNITY!
Recommended articles
Court orders lady to pay $80,000 to man for dumping him after he paid her school fees
Actress Benedicta Gafah ties the knot
Guest house boss shoots customer for complaining about malfunctioning TV
10 trending kente styles that took over the 'gram in January
German firm invests Sh350 million in Kenya to make the country a leading distributor of its product
East Africa continues to experience an impressive intra-trade growth trajectory
CHAN 2022: Ghana awarded 3 points, 3 goals due to Morocco pull-out
Missing twins saga: 37 Military Hospital apologises to couple …claims scans were incorrect
Police arrest 34 prostitutes in Tema, court grants each one GHC5k bail