Bulk cashew exporters collapsing local processing factories
According to the African Cashew Alliance, an estimated 75,000 smallholder farmers in Ghana produce approximately 70,000 metric tonnes of raw cashews each year.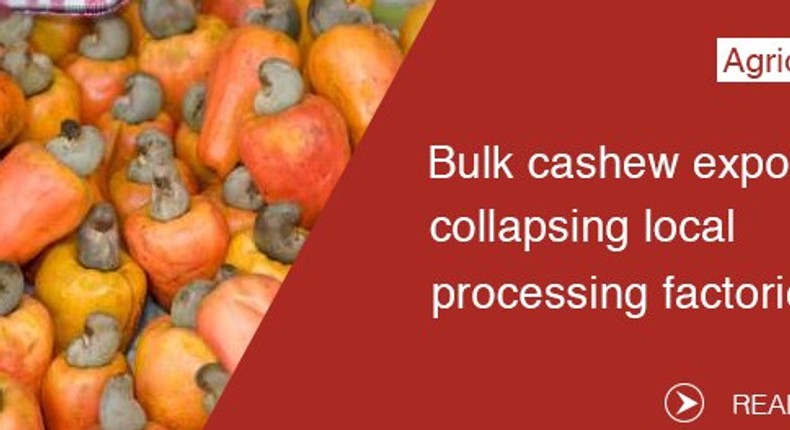 Local cashew processing plants are operating below capacity due to the unavailability of raw cashews.
The problem is not because Ghana is not producing enough raw cashews but the plants are facing stiff competition from bulk cashew exporters who offer cashew farmers better price than the local processing plants.
"However, the local firms face competition from bulk exporters, who sell the cashews on to foreign processors at a higher price than is competitive for most domestic processors, who face higher operating costs for power, transport and labour," according to AsokoInsight, which offers data on Sub-Sahara African companies.
"As a result, over the course of the past decade, domestic processors have turned to importing nuts from neighbouring Cote d'Ivoire, in come cases - as with Mim Cashew - relying on imports for as much as half of their total inputs," according to AsokoInsight.
In March 2016, trade minister Dr. Ekow spio Garbrah restricted the exportation of cashews in a move to protect the local plants from collapsing, a sweeping directive.
Of the 12 cashew processing plants in Ghana, only two are in operation, and are reportedly operating below capacity due to scarcity of the nuts.
As much as 95% of Ghana's total production of cashew nuts estimated at 68,000MT is exported in its raw form to overseas for processing, Spio Garbrah said.
This means that the industry is operating at just 5% of its installed processing capacity of 65,890MT," according to the directive.
The largest cashew processor in the Brong-Ahafo Region, KONA Agro Processing Limited, shut down its operations due to financial difficulties.
The company, which employed 250 workers, many of whom were, used to process about 1,500 metric tons of raw cashew annually for export.
The company's Director, Mr. Kwabena Taylor, said his outfit needed US$1.5 million to get back into business.
Government is planning on establishing a Cashew Management Board to license, supervise and monitor all activities in the cashew value chain.
In addition, government is also mulling support for the National Buffer Stock Company (NAFCO) to enable them purchase the Raw Cashew Nuts (RCN) and establish a "Just-in-Time" inventory to ensure that the indigenous processors have an all-year-round supply of raw cashews/.
JOIN OUR PULSE COMMUNITY!
Recommended articles
'BBTitans': 2 housemates break one of Big Brother's greatest rules
Ghana's gift to the world: How Idris Elba served the Ghanaian kente at Akwasidae
Veterinary doctor and his team 'fly' as sedated lion suddenly wakes up (video)
65th Grammy Awards: Dentaa Amoateng sells Ghana to the world with the perfect kente outfit
Christian Atsu reportedly missing under rubble after earthquake in Turkey
Ibrahim Mahama to pay for treatment of former NSMQ contestant suffering from bipolar disorder
Christian Atsu not found yet - Hatayspor Vice President
4 sexual fantasies women often have
Video: Christian Atsu's family sings praises to God after footballer's rescue