Former U.N. Secretary General dies at 93
UN Security Council announces that former UN Secretary-General Boutros Boutros-Ghali has died.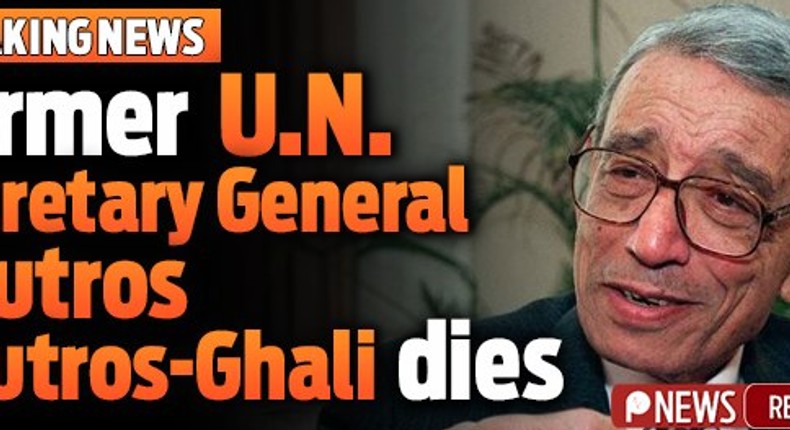 Boutros Ghali, who was the Secretary General of the
Venezuela's U.N. Representative Rafael Ramirez, the current president of the council, made the declaration at  the commencement of a meeting on Yemen's humanitarian emergency on Tuesday and called on member present to observe a moment of silence.
The 15 committee individuals remained in silent tribute.
Boutros-Ghali served as the Deputy Prime Minister for Foreign Affairs of Egypt from May 1991 until he was designated as Secretary General. Previously, he served as Minister of State for Foreign Affairs from October 1997 until 1991.
Boutros-Ghali, the scion of a prominent Egyptian Christian political family, was the first UN chief from the African continent.
He stepped into the post in 1992 at a time of dramatic world changes, with the collapse of the Soviet Union, the end of the Cold War and the beginning of a unipolar era dominated by the United States.
But after four years of frictions with the Clinton administration, the United States blocked his renewal in the post in 1996, making him the only UN secretary-general to serve a single term. He was replaced by Ghanaian Kofi Annan.
Boutros-Ghali was born in Cairo, Egypt on Nov. 14 1922, and was married to Leia Maria Boutros-Ghali.
JOIN OUR PULSE COMMUNITY!
Recommended articles
Top 10 African countries producing Palm Oil
Top 10 most ethnically diverse countries in Africa
African countries with the cheapest household electricity prices
Top 10 African cities with the highest population growth from 2022 to 2023
Top 10 happiest countries in Africa in 2023
Female tenant arrested for squeezing landlord's testicles to death over electricity bill
Here are the proposed tax measures introduced by the government
Davido reportedly spends over ₦300 million on new Lamborghini
South African rapper, Costa Titch slumps, dies on stage