Ghanaians brace yourselves; Massive food shortage looms
The phenomenon also follows  the weather pattern in 2015 when Ghana  and many other parts of the world experienced the warmest weather conditions ever.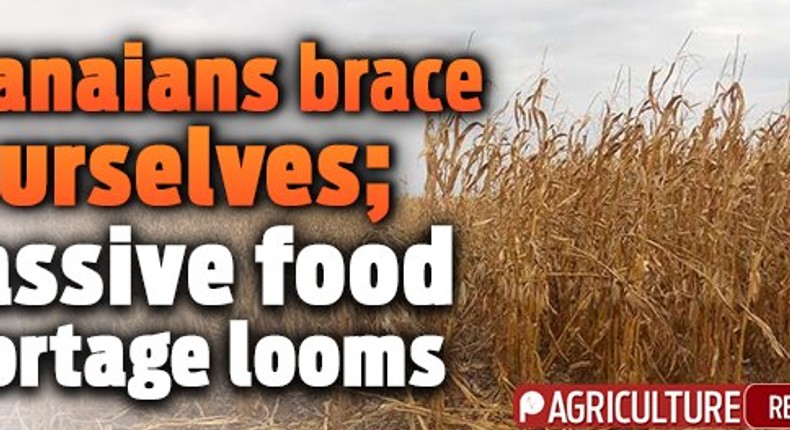 Deputy Minister of Agric has warned of an imminent drought and food shortage in 2016.
This follows a prediction by the Ghana  Meteorological Service  that 2016 will see  the country experience a severe drought.
According to the Meteorological Service the dry weather condition is as a result of the El Nino weather events that is epitomized by continues dry winds , and drought.
El Nino is a naturally occurring weather episode that sees the warm waters of the central Pacific expand eastwards towards North and South America. It was originally recognised by fishermen off the coast of South America in the 1600s with the appearance of warm water in the Pacific Ocean.
With the situation set to worsen this year, there are concerns about Ghana's food production and supply, as crop production is directly dependent on rainfall pattens in the year.
The Deputy Minister of Agric, Dr. Alhassan Yakubu said on the Citi Breakfast Show,
"Our crop production is directly dependent on seasonal rainfall on an annual basis so any disruption of our national rainfall in any particular year will definitely hit our crop production."
The Deputy Agric Minister conceded that the country's food production will face dire consequences if the condition persists.
There are vivid signs of the repercussions of Climate Change on Ghana's weather patterns and agriculture.
For a country whose  water bodies were created by torrential, continues rainfalls, Ghana's rainfall patterns are becoming increasingly dry with time.
By 2020, an estimated 75–250 million people in Africa would be exposed to increased water stress, a 50 per cent reduction in yields from rain-fed agriculture in some regions and agricultural production, as well as severely compromised access to food.
In Ghana, crops are getting destroyed due to periods of extreme heat and heavy rains.
Almost 91 percent of respondents in a 2012 survey conducted by the Ghana Agricultural Workers Union (GAWU) and Friedrich Ebert Stiftung (FES) on the impact of climate change on the livelihood of farmers stated that their income decreased due to loss of crops or livestock resulting from bad weather conditions.
JOIN OUR PULSE COMMUNITY!
Recommended articles
Top 10 African countries with the most transparent GDP data
Top 10 African cities with the highest population growth from 2022 to 2023
Treason felony suspect, Dr. Mac Palm dies
Nigeria is planning to unlock revenue from the sale of tickets on international airlines and launch Nigeria Air by May
African countries with the cheapest household electricity prices
Top 10 most ethnically diverse countries in Africa
Uganda expects its debt load to reduce and its economic growth to increase by 7%
South African rapper, Costa Titch slumps, dies on stage
Tracey Boakye shows off newborn baby boy as she reveals his name (WATCH)