Don't live with your friend
Renting an apartment in Ghana is not a piece of cake. It is very expensive and this forces some people to stay with friends which turns out to be disastrous most of the time. Pulse.com.gh reporter Betty Kankam-Boadu explores this issue while sharing her personal experiences.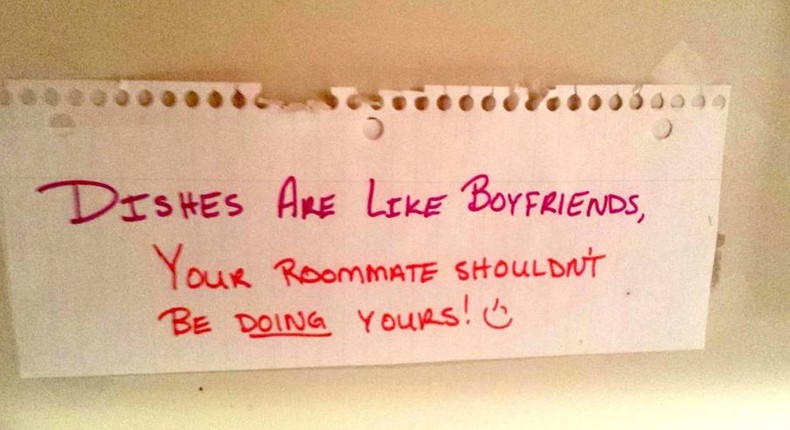 Once bitten, twice shy as the saying goes.
But not for me! When I was bitten once I took no clue from it. But can you blame me?The past couple of days have been pretty rough trying deal with the flat mate who I no longer needed around.
I should have learnt my lesson after my first experience some three years ago.
I relocated to Accra from Kumasi right after school. Even though I was working I could not afford my own accommodation. So I stayed with my big sister who was wonderful to me. After two years of living with her, I got a request from a very dear friend of mine I'll call Beeba, who wanted to come live with us. Her cousin she stayed with had thrown her out and she needed a place to stay urgently.
I convinced my sister who agreed to let her stay with us. Beeba initially specified that she wanted to stay for just for a few months but it ended up being close to a year.
We lived peacefully until she began exhibiting certain behaviours which did not sit well with me or my sister.
As our Ghana way of being hospitable, my sister was not expecting her to pay rent or contribute money to pay for the utilities but she expected her to help keep the house clean. But Beeba didn't do this. My eight month pregnant sister then, had to do all the cleaning whenever I was away in Kumasi while Beeba sat to watch TV. This continued for awhile until I had to tell her to leave the house and things got pretty nasty afterwards. It's been three years since we last spoke.
I saved enough to get my own apartment in 2015. Two weeks after moving in, another acquaintance called saying she needs a place to stay for a while as her Mataheko residence is too far from work. I didn't want her to come but then a part of me wanted to help out. The agreement was that we would split the cost of the utilities.
This arrangement of living with a friend does not only stress you out unnecessarily, you may damage relationships to irreparable levels.
Home owners take nothing less than two years rent advance. You will be lucky to find an apartment that is going for a year's advance. Clearly something needs to be done about it. The real estate sector is too important to be left unregulated. It is time someone took a look at it so people can afford decent accommodation at reasonable costs.
The Rent Control departments have been reduced to a "mini tribunal". All they do is to settle cases between tenants and homeowners. But clearly their mandate goes beyond this.
I will keep hoping for the day the rent system will be structured well so everybody can get a decent place to rent. Until then do everything possible to avoid living with a friend in an apartment solely owned.
It ends in a disaster most the time. But if you have to do it anyway then set ground rules and make sure you both uphold them!
JOIN OUR PULSE COMMUNITY!
Recommended articles
Ahoufe confirmed dead; death of Ghanaian TikToker goes global over Tupac comparison
For women: 4 foreplay tips to drive men wild
ECG timetable: Here are the areas to be affected by 'dumsor'
ECG to release timetable for 14-day power outage
South African rapper, Costa Titch slumps, dies on stage
'Jordan Ayew should be captain after Andre and Partey, not Amartey' – Countryman Songo
Stop listening to secular songs if you are a true Christian - Moses OK
Tracey Boakye shows off newborn baby boy as she reveals his name (WATCH)
10 trending kente styles that took over the 'gram in February