'Gov't must fight against galamsey menace'
In recent times, galamsey operators have encroached mining concessions of AngloGold Ashanti (AGA), destroying properties worth millions of cedis.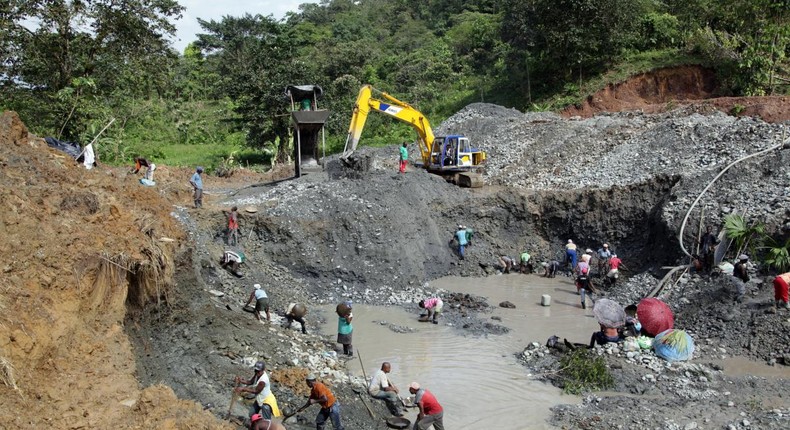 The Ghana Chamber of Mines is calling on government to support the fight against illegal miners, popularly known as galamseyers.
A clash between galamsey operators and staff of AGA in Obuasi in the Ashanti Region led to the death of the company's top official in February.
The President of the Chamber, Mr Kwame Addo-Kufuor, noted at a West African Mining and Power Conference (WAMPOC) in Accra that the activities of illegal miners posed a danger to the investment of the mining sector.
Mr Addo-Kufuor, who is also the Regional Vice-President and Chief Operating Officer of Newmont Ghana Gold Limited, said, "the government must support us to help fight the menace of galamsey to foster confidence in the sector."
Speaking at the same forum, the Deputy Minister of Lands and Natural Resources, Mr Kwabena Mintah Akandoh, said measures are being put in place to address illegal mining challenges.
"Some interventions to address the illegal mining challenge include the passage of the Minerals and Mining (Amendment) Act, 2015 (Act 900). Act 900 provides for the confiscation of equipment used in illegal mining, as well as the products mined," Mintah Akandoh said.
He also called on traditional authorities to help build consensus in the mining firms to maximise economic benefits from the mine.
"The government and industry operators may not have all the answers. Therefore, traditional authorities should also promote dialogue and consensus building with mining firms with the objective of maximising the economic and social benefits from the mine," he said.
JOIN OUR PULSE COMMUNITY!
Recommended articles
Top 5 economies in Sub-Saharan Africa to watch out for in 2023, according to IMF
Nigeria, Cameroon and Zimbabwe lead the pack of African students studying overseas
Top 10 African countries with the highest GDP projections for 2023
10 wedding gowns on trends for 2023 brides
5 reasons why s*x during the rains remains undefeated
Fantana reportedly loses boyfriend
Her business is gone - Yellow Sisi Waakye seller's husband cries: 'My wife can't harm customers'
Leftover stew was mixed with new one – FDA reveals cause of Yellow Sisi Waakye poisoning
Tanzania joins the list of African countries to sign an oil deal in the new year