Today's Front Pages [8th Feb 2016]
Here are today's edition of the newspaper headlines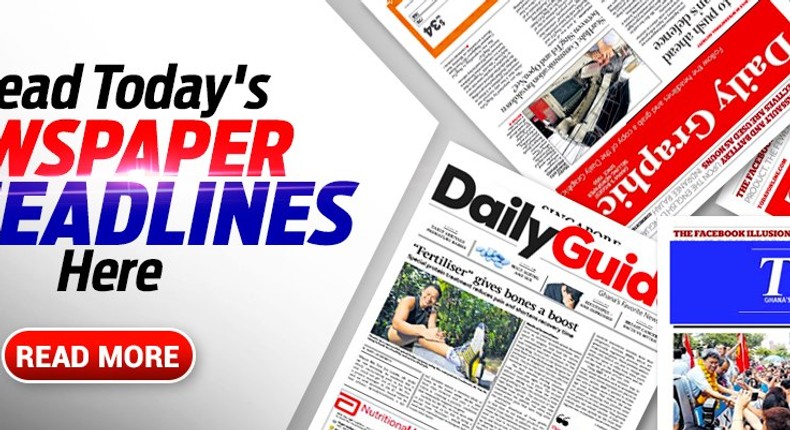 SIM BOX FRAUD EXPOSED: POLICE/ SUBAH COLLABORATION RETRIEVES 8,854 SIM CARDS
The Visa and Documentation Fraud Unit of the Criminal Investigation Department of the Ghana Police Service uncovered one of the largest illegal SIM Box network operations at Gbawe, near Accra, at dawn last Friday.
After almost two years of inactivity, the Tema Oil Refinery (TOR) is set to resume operations.
PRESIDENT MAHAMA COMMENDS ZOOMLION
President John Mahama has commended Zoomlion Ghana Limited, a private waste management company for its role in waste management in the country.
2 SOLDIERS PERISH AT PEKI
Two soldiers and a civilian driver of the Ghana Armed forces (GAF) have been killed in a gory accident at Peki-Wudome in the South Dayi District of the Volta Region.
WOMAN RAPED, KILLED IN FARM
A 40 year-old woman, Awonye Mary aka apataa, was found dead on her farm at Apegusu, a farming community in the Asuogyaman District of the Eastern Region, Sunday morning and is suspected to have been raped and killed by Fulani herdsmen.
BRIBERY SCANDAL HITS CJ'S OFFICE: JUDGE ACCUSES JUDGE OF BRIBERY
A private legal practitioner I.B Akwantey has petitioned President John Mahama to remove from office Justice Dennis Dominic Adjei of the Court of Appeal for allegedly collecting money judges of the lower bench for promotions and the opportunity to study abroad.
NORTH ATOMIC RESIDENTS CONTRACT RESPIRATORY INFECTIONS
Most residents in the North Atomic community are suffering from severe dust pollution, with some diagnosed to be suffering from upper respiratory infections as a result of laterite spread on their roads.
IMMIGRATION SERVICE TO ENFORCE ALIEN' REGISTRATION LAW
The Ghana Immigration Service has begun deliberations with the Ghana Tourism Authority and the Ghana Hoteliers Association to find an amicable way to implement the Aliens' Registration Regulation 1974 (LI 856).
100 NEW METRO BUSES BEGIN SERVICE
The management of Metro Mass Transit Limited (MMT) has increased its number of buses on the various routes in the Greater Accra by an addition of over 100 buses.
RAWLINGS URGES GHANAIANS TO VOTE ACCORDING TO CONSCIENCE
Former president, Jerry John Rawlings has called on Ghanaians not to allow themselves to be coerced by any political party or its leadership to vote for him or her in this year's elections.
KORLE BU CLOSES DOWN 3 SURGICAL UNITS
Three surgical facilities at the Korle Bu Teaching Hospital would from Monday not operate until further notice. The decision to suspend the use if the clinics was taken last Friday to allow works to be completed in some of the theatre and recovery wards in the Department of Surgery which are being rehabilitated.
IMF SHOWS FAITH IN ELECTION YEAR BUDGET
Deputy Managing Director of the International Monetary Fund (IMF) Min Zhu has said that the fund is highly confident Ghana's executive government will not overspend its budget as it seeks a renewal of its mandate at the November 7 polls.
'SAVINGS BOOSTER' TO OFFER HIGHER RETURNS
Petra Trust, a leading corporate trustee licenced by the National Pensions Regulatory Authority has unveiled a new 'Savings Booster' – a groundbreaking product – onto the Ghanaian Pension market in Accra.
JOIN OUR PULSE COMMUNITY!
Recommended articles
Top 10 African countries producing Palm Oil
Top 10 most ethnically diverse countries in Africa
African countries with the cheapest household electricity prices
Top 10 African cities with the highest population growth from 2022 to 2023
Top 10 happiest countries in Africa in 2023
Female tenant arrested for squeezing landlord's testicles to death over electricity bill
Here are the proposed tax measures introduced by the government
Davido reportedly spends over ₦300 million on new Lamborghini
South African rapper, Costa Titch slumps, dies on stage