Ghanaians express mixed reactions over transport fare increment
The Ghana Road Transport Coordinating Council (GRTCC) announced at the weekend a 15 per cent increment in transport fares effective Monday, February 1, 2015.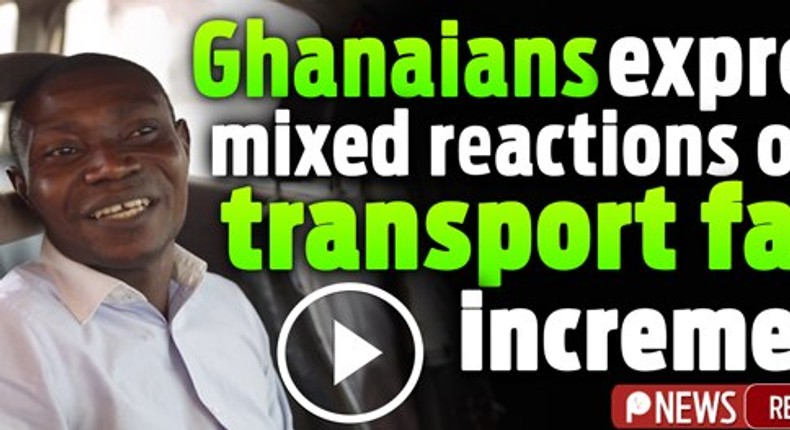 Ghanaians have expressed mixed reactions towards the new increment in transport fares.
The union said the increment has been necessitated by inflation, high cost of spare parts and increased fuel prices.
But scores of passengers Pulse.com.gh spoke to, indicated that the increment is unfair.
James is a pastor of a church in Accra. He said the situation is worrying, and will therefore advised his congregants to vote wisely in the upcoming elections.
"I am going to Lapaz. Initially it was 2 cedis from American House to Lapaz, but now it is 2.30 pesewas. So now 30 pesewas is gone. And I haven't had any income since this morning. Do politicians want us to leave this country or what?" he fumed.
For Auntie Mercy, she has lost all hopes in the ensuing situation. She however appealed to authorities to intervene.
"It is something that is really bothering us. But what can we do about it, nothing. We are already living in this country. All the same, Government must do something about. I am currently going to Ofankor. Initially, it was 2 cedis, but now it is 3 cedis, 50 pesewas," she said.
Mr. Mensah, a passenger who often uses the American House station to 37 station every morning to work said he is however not bothered, because he has "Christ on his side. So I don't care about all this."
Meanwhile, drivers have told Pulse.com.gh, the increment is rather having a toll on their business, considering the backlash they receive from passengers every time there is an increment.
"We just added about 20 pesewas, but passengers are complaining. I drive from American House station to 37 station everyday. Initially, it was 1 cedi, 4 pesewas, but now it is 1.60 pesewas. It has been tough; some of the passengers even want to fight with my conductor. It is a mixed feeling, as some passengers complain because they are to see an improvement in their lives," Kojo, a trotro driver told Pulse.com.gh.
Awudu, a taxi driver believes government should improve the working conditions of Ghanaians so they would be able to cope with frequent increment in transport fares.
"As a taxi driver, the increment is affecting me negatively, as passengers no longer patronise taxis because of the increment. The situation is very terrible," he said.
But, for Appiah, a taxi driver who often does his business along the East Legon road to 37 station, the increment should have been more than 15 percent. He believes the two per cent decrease in fuel price is unsatisfactory.
"For me, the current rate of increment in transport fares is not ideal, compared to the paltry 2 percent decrease in fuel prices. I would have wished the transport fares were increased beyond the 15 per cent," he said.
JOIN OUR PULSE COMMUNITY!
Recommended articles
Ahoufe confirmed dead; death of Ghanaian TikToker goes global over Tupac comparison
For women: 4 foreplay tips to drive men wild
ECG timetable: Here are the areas to be affected by 'dumsor'
ECG to release timetable for 14-day power outage
South African rapper, Costa Titch slumps, dies on stage
'Jordan Ayew should be captain after Andre and Partey, not Amartey' – Countryman Songo
Stop listening to secular songs if you are a true Christian - Moses OK
Tracey Boakye shows off newborn baby boy as she reveals his name (WATCH)
10 trending kente styles that took over the 'gram in February