A Plus calls IMF to check how much Ghana gov't spent on this caricature podium for Kamala
Kwame A Plus has expressed his disappointment in the podium mounted at the Kotoka International Airport to welcome Kamala Harris to Ghana.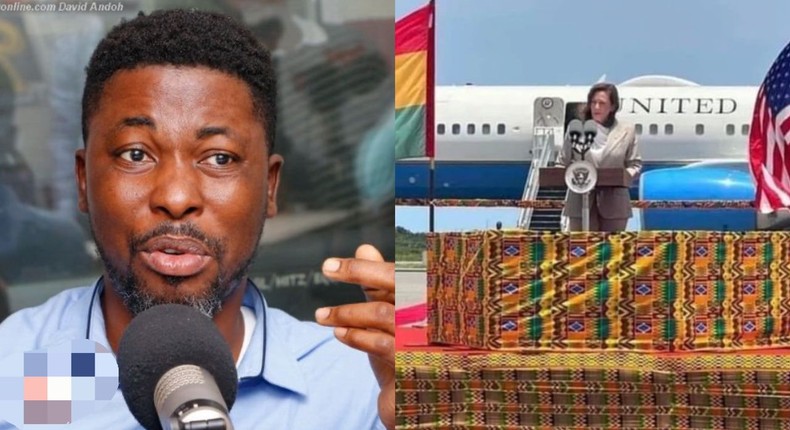 According to the outspoken Ghanaian socio-political activist, the podium is disgraceful and unbefitting.
The trip to Africa by the US vice president kicked off on Sunday, March 26, 2023, with her arrival in Ghana. She is scheduled to spend three days in Ghana before leaving for Tanzania on Wednesday and Zambia on Friday before returning to the U.S. on Sunday.
Commenting on the podium she spoke on during her arrival, A Plus said "you watch the Champions League final or the World Cup in Qatar, and within a matter of minutes, a beautiful podium is built for a presentation.
"You watch the Super Bowl halftime show, and within the twinkle of an eye, the whole playing field is turned into a gorgeous stage for a musical concert.
"Here in Umofia, this is what Atta ne Atta were able to build in 73 hours; the most annoying part is that this caricature will be more expensive than any of the aforementioned".
Blasting the Ghanaian government and whoever is behind it, A Plus suggests a huge budget might be allocated for it and that should scare the IMF from giving Ghana a loan.
"Dear International Monetary Fund, before you give them the loan, ask them how much was spent to build this Susubribi village square, and you'll know what your money will be used for," A Plus concluded in the post below.
Recommended articles
No need for record label if you have money —Epixode
Ghanaians are fortunate to have you - Fella praises Medikal, says he's best rapper ever
You can't build a house in East Legon on an actor's salary- Ekow Smith Asante
Medikal left me for Fella Makafui but I'm still his 'trophy' – Sister Derby tells critics
Yankee Beatz releases his debut single 'Bestie'
Mr Eazi to go bullish on tech investment as he visits Estonia
Tina Turner's husband to inherit half of her fortune for donating his kidney to her
Nigerian RnB star Rukmani releases new single titled 'So Fine'
Tyrone Marghuy: Achimota school adds controversial rasta student to its NSMQ squad