I will handle Nogokpo myself, Agyinasare is not strong enough – Nana Agradaa
Evangelist Mama Pat Agradaa, has openly challenged the Nogokpo shrine and its practices, declaring her intent to dismantle their gods.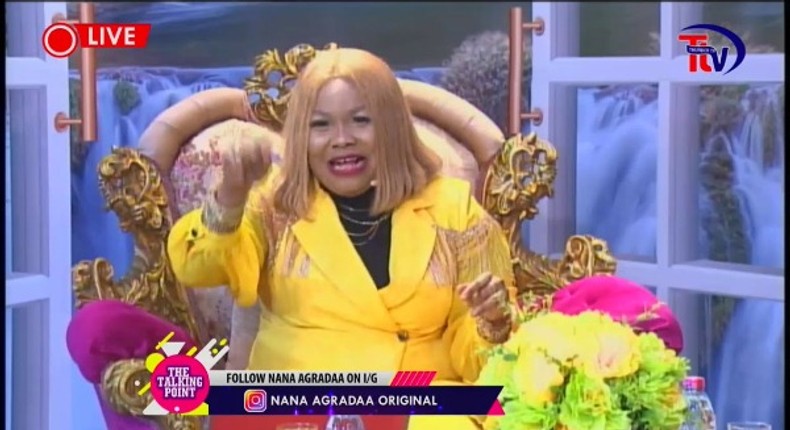 She was responding to the ultimatum issued by the elders of Nogokpo concerning Archbishop Charles Agyinasare.
Nogokpo, a town renowned for its powerful shrine, summoned Agyinasare, accusing him of defaming their town by labeling it as the demonic headquarters in the Volta Region.
While it remains uncertain whether Agyinasare will honor the summons, his church, Perez Chapel International, has initiated a week of fasting to seek divine intervention.
However, Agradaa has managed to divert attention to herself by making audacious claims. During her Sunday sermon at the Heaven Way Church, she insinuated that the Nogokpo elders targeted Agyinasare because they perceive him as weak.
"Yesterday I heard on the news that they were coming for our father, Agyin Asare, and I said, why didn't they bring it my way? They would have known the difference. Where we find loose clothing is where we can easily tear it.
"Bring your attention to Heaven Way Champion. I will document myself breaking down the gods with a camera on me so they know there is power in God that works," she said.
Agradaa boldly stated that if someone like her or her church were challenged, she would document the confrontation with cameras and forcefully enter the Nogokpo temple to destroy their deities. This was evidently an attempt to showcase her own strength.
"I am saying, if they like, they should bring their schemes my way. We have stood in this room to say there is no power in gods and mentioned names like Nogokpo, Antoa Nyamaa, Ayanta, and Kwaku Firi.
"Why don't they bring it my way? We will show them that we are the masters of the greatest," she added.
Agradaa vehemently refutes the notion that gods like Nogokpo, Antoa Nyama, or Anyanta possess any genuine power. Her outspoken remarks and willingness to confront well-established religious institutions have previously garnered considerable attention.
The reaction of Nogokpo to Agradaa's audacious challenge remains unknown. The resolution of this scenario could have significant implications for religious freedom and coexistence in Ghana, as tensions between religious leaders and traditional practices continue to rise.
Recommended articles
I won't succumb to indecency to sell my music – Adina
'Manifest is a better rapper than Sarkodie' – Samini
I probably would have been an occult if I hadn't met Bullet – Wendy Shay reveals
Abena Korkor and Shatta Wale share kiss at Medikal's album listening [VIDEO]
Sister Deborah stuns in African Garments at Paris Fashion Week 2023
iMullar Sound System: All you need to know about the thriving music and fashion community
Kuami Eugene speaks on criticism of his fashion choices, says he has family to feed
'It's too early to complain over credit of songs' - Sleeky tells Kuami Eugene
Stop blaming Bullet; those who wanted to kill me know themselves - Wendy Shay reveals