'BBTitans': Nana and Olivia fight over eviction nominations
We know every eviction nomination comes with drama, but nobody saw this coming.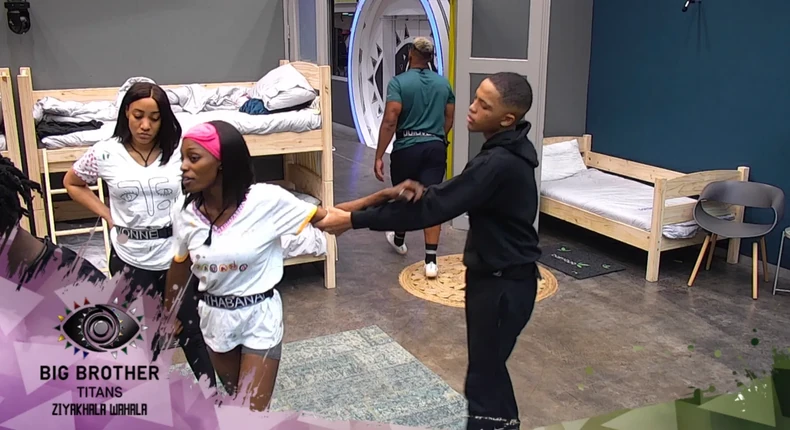 Big Brother housemates Nana and Olivia have verbally attacked each other because of the eviction nomination from last night.
After the nominations, Kaniva, Blaqleng, Khosicle, Juvone, Maya, and Yelisa were up for nominations, but things took a turn when HoH saved Justin and Yvonne and replaced them with Juicy Jay and Olivia.
After the nominations process, Nana, who is part of the Head of House pair, got into a fight with Olivia, who clearly wasn't okay with being nominated, especially by substitution.
Olivia stated that being nominated by Nana was unfair and that Nana was just "kissing asses" by saving Juvone.
Nana wasn't having it; she responded by stating that it wasn't easy as she had a lot of people to consider.
Thankfully, other housemates were around to prevent the duo from getting physical with each other.
It ended with cusses and major verbal attacks.
Recommended articles
Mr Drew dispels notions of irrelevance after departing Highly Spiritual Music
I had to lie about my roots just to secure jobs – Dancegod Lloyd
I don't understand why we celebrate the dead more than the living - Ofori Amponsah
'Shatta Wale knows my house and my number' - Michy denies hiding son from his father
Nedu confesses to supporting cheating in marriage
Cecil Duddley Mends sweeps 2 top awards at 2nd National Brands Innovation Awards
RYLTY shares attractive Alté collab with producer, Zodivc
5 Ghanaian music groups who owe Ghanaians one last hit song
John Dumelo speaks on his relationship with Fred Nuamah; says he feels betrayed