Suspect arrested in 1996 Tupac Shakur shooting death
Duane Keith "Keffe D" Davis has been apprehended in connection with the 1996 shooting death of rapper Tupac Shakur, as announced by Las Vegas authorities following a grand jury indictment.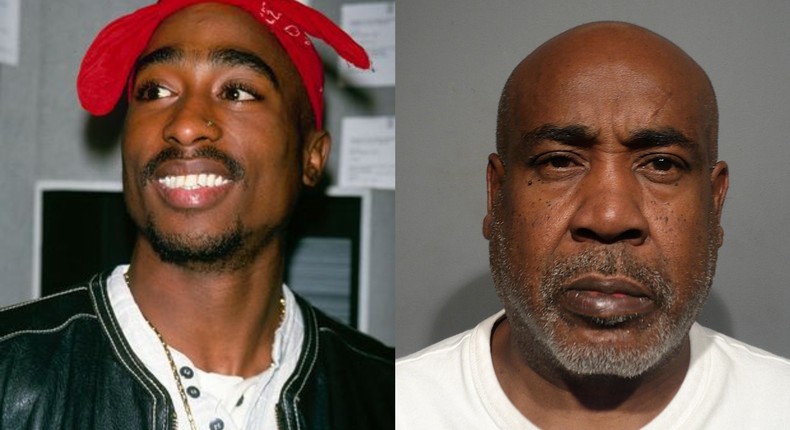 Davis, who is now 60 years old, was arrested in Las Vegas on Friday morning.
Tupac Shakur, aged 25 at the time, was fatally shot while leaving a boxing match on the Las Vegas Strip, sustaining four gunshot wounds and passing away six days later.
This arrest comes two months after a police raid on Davis's wife's residence in Henderson on July 17.
During a news conference on Friday, authorities portrayed Davis as the alleged mastermind behind a plot to avenge an attack on his nephew by orchestrating Tupac Shakur's murder. Davis himself has admitted in interviews and in his 2019 memoir, "Compton Street Legend," that he was in the front seat of the white Cadillac that pulled up alongside Shakur's car when shots were fired from the back seat, leading to the musician's death.
Duane "Keffe D" Davis had long been under investigators' scrutiny as one of the four initial suspects in the case.
Additionally, the grand jury has decided to include a sentencing enhancement for gang activity, potentially adding up to 20 more years to his sentence if he is convicted.
Sekyiwa "Set" Shakur, the rapper's sister, expressed her view on the arrest in a statement on Friday, describing it as a significant moment.
She emphasized the importance of acknowledging the impact of Tupac Shakur's passing on their community and called for recognition from the world, the country, the justice system, and their people, highlighting the gravity of her brother's loss.
"This is no doubt a pivotal moment. The silence of the past 27 years surrounding this case has spoken loudly in our community," she said. "It's important to me that the world, the country, the justice system, and our people acknowledge the gravity of the passing of this man, my brother, my mother's son, my father's son."
JOIN OUR PULSE COMMUNITY!
Recommended articles
Detty December Calendar: 20 events in Ghana to attend this December
Ghana's Gospel industry is full of hypocrisy – Patience Nyarko
'God elevated me to marry Agradaa, I don't care what people say' - Asiamah scolds critics
Don Little reportedly arrested by police for knocking down a motor rider with his car
My accident was a spiritual attack meant to kill me – Sonnie Badu claims
Yvonne Godswill packs Ghana Jollof to Nigeria, says 'I disagree with Hilda Baci' [Video]
I don't depend on my husband for basic things – Nana Ama's secret to a successful marriage
Nana Agradaa drops hint on how some MPs, Ministers rely on Chinese drugs for long sex
Sammy Forson quits Joy FM