Take my name out of your mouth - Afia Schwa warns Moesha
Afia Schwarzenegger in a post has reacted to a video of Moesha's latest interview where she tells that the former paraded lies about her during her ill stage.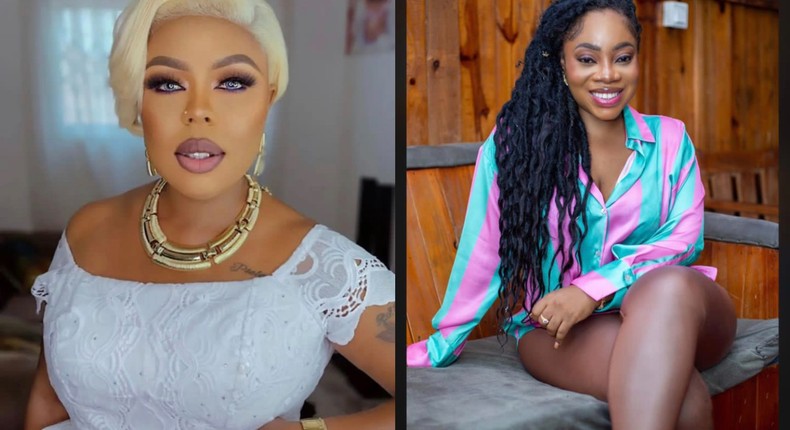 The actress and socialite have been in hibernation for some time now battling with her unstable health.
Moesha recently popped back on the internet after a long hiatus unveiling a new persona, which is attached to dancing and twerking to sultry music.
She announced turning a new leave to Christ and adopted the name "sexy woman of God"
Afia Schwarzenegger who shared her concern about her state of health took to her social and wrote, "DanceGod Moesha, I'm praying with you woman of God. we will win this battle IJN"
Moesha has since been displeased with Afia's thought about her health and in a recent conversation with SammyKay shared her sentiments.
"Afia Schwarzenegger brought up a wrong story about me that was leaked, I don't want to talk about it because whenever I try to tell the truth about myself no one listens, no one wants the good side, everyone wants the damaging story", she said
In reaction to this, furious Afia has warned Moesha to desist from talking about her, in a written post the former said,
"I don't lie about people I helped...I pray you to get genuine help since every little thing you do confirms what the Doctors told me, in the presence of @nanaakuaaddo,@tracey_boakye @amrichie, and some of your relatives.
If not for your sickness I would have beaten the shit out of you the day you slapped me. since you won't listen to all I told you back door. Let me do it Publicly
Moesha take my name out of your mouth... take my daughter's name out of your mouth!!! A COMMON THANK YOU WILL GO A LONG WAY!!!!
You didn't and can't take care of @penalistic_pena as speculated, so let her name rest.
Finally, I paid the doctors that diagnosed you so you can't change the narrative for some of us. Instead of you being desperate to change the narrative... I pray you genuinely seek Christ, and he will perfect your healing. I still love you, BUT from a distance. I deserve some peace"
Recommended articles
Fred Nuamah petitions NDC over 'Machiavellian tactic' to prevent him from filing nomination
I don't dictate for Medikal; Shatta Wale comments on Medikal's marriage and more
Even if Medikal leaves Fella, Ghanaians will blame me – Shatta Wale laments being overly criticised
VGMA is my ex-girlfriend, I'll come back if they want me - Shatta Wale
Edem disappoints fans on parliamentary bid, says he's testing the waters
Blackstar Line Festival is the biggest concert in Ghana's history - Chance The Rapper
Okraku-Mantey to contest Ayensuano seat on NPP's ticket
I didn't reply Amerado's diss song because he is nowhere near my level - Medikal [Video]
Are you mad? Angry Fella Makafui replies Bongo Ideas' infidelity claim