"Prayerful man" slaughters wife & 2 children with axe during family fasting & prayer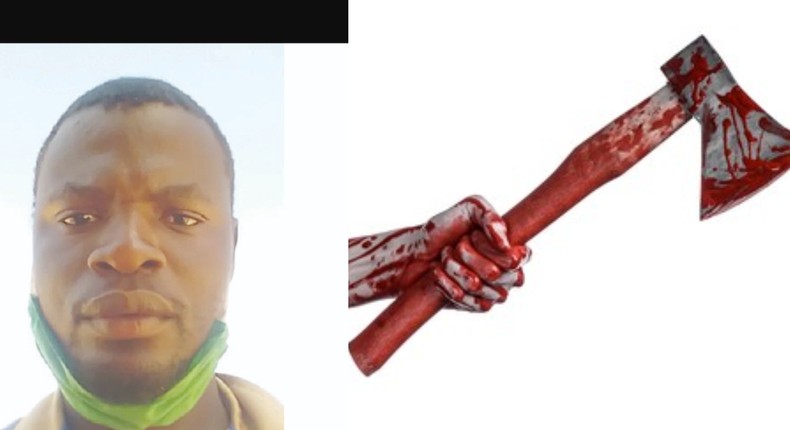 The bloody incomprehensible incident reportedly occurred in the Woodlands suburb on Tuesday afternoon.
Police have subsequently arrested Leo Kanyimo, who was an ardent Apostolic Faith Mission (AFM) follower.
According to witnesses, only one of the suspect's children was able to escape being murdered.
Kanyimo's neighbours who have been left in a state of shock said he was a calm gentleman.
"We knew him as a prayerful man and yesterday he said they were fasting and praying for one of their children whom he said was possessed by some evil spirits," one of the neighbours identified as Charles Ngazi told Zimbabwe's Herald.
"As they were praying in their house, we suddenly heard some screams and when we dashed to the scene, we realised that he was axing his family."
The Zimbabwean police spokesperson Assistant Commissioner Paul Nyathi who confirmed the heartbreaking incident said the suspect was "running around with the baby he had killed"
The police boss is quoted as saying: "The man in his 30s started having problems in Woodlands, Gweru, and took a log and killed his wife, who was in her 20s, his 10-year-old son and an 18-year-old girl using a log," Nyathi said.
"Neighbours heard some noise and saw the man running around with the baby he had killed. They alerted the police at Nehanda Station and he was arrested. We are still investigating the case."
Some witnesses have speculated that Kanyimo was in a trance when he committed the heartless crime but that can only be established after the police investigation.
JOIN OUR PULSE COMMUNITY!
Recommended articles
Three Town SHS final year student jailed 4 years for stabbing teacher
Fake Nigerian lawyer who's practised for 10 years arrested during cross-examination (video)
Uneasiness in Uganda's parliament as Speaker vows to name MPs who impregnate and abandon girls
20-year-old lady who sued doctor for allowing her to be born has won the case
Kenyan court grants divorce to wife after husband stopped working, saying it was God's direction
Man arrested and taken to court for stealing Bible
Primary pupils mould blocks to build single room for mum of their mate who died of tumour
Man walks boldly to police, confesses to killing wife and 4 kids: "Detain me for 6 months"
22-year-old lady says she's had 2-year intensive training on kidnapping, robberies and bombs