Nigeria's Aso-Oke making a comeback
Now existing in pockets of areas in the south of Nigeria's textile circles, the Aso-Oke material is making a comeback, only much more fresher.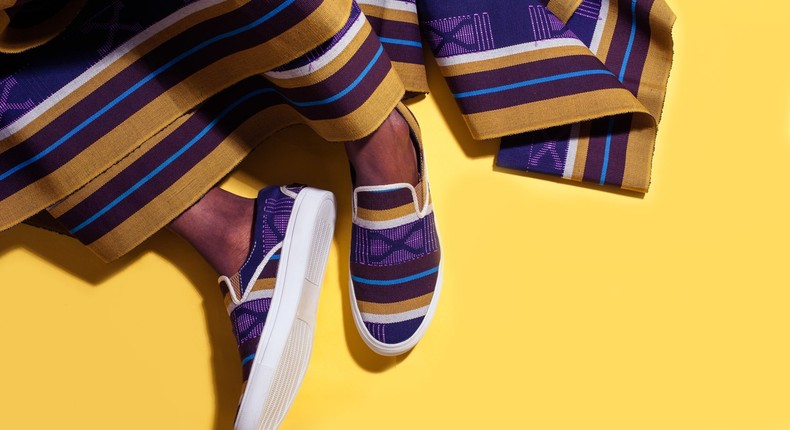 Written by Selinah Ntobong
I never had the intention of delving into fashion, even though I love fashion but from a photography point of view. While working with the weavers during my research, I learnt more about the fabric and the many possibilities that has not been explored and I thought to myself why cant I create other unique items from this fabric?" says Tunde Owolabi.
That is how Ethink, the Lagos-based Afrocentric fashion accessories brand was started by the 36-year-old photographer and painter, Tunde Owolabi, who has just added designing to his trades.
The Aso-oke fabric is typically a traditional wear for the Yoruba community in South-west of Nigeria (the second largest tribe in the country).
Usually donned by the elite, chiefs and on special occasions, at least by those who are able to extend their hands deeper down their pockets, Owolabi sought to change the status quo.
"Aso oke, a hand loomed woven cloth is known to be worn for special occasions only, but I thought I could break the norm and change the perception people have of the fabric.
"The issue of sustainability was also key. Due to colonialism and modernisation, most of the African fabrics have gone into extinction mainly because of the process of making some of them, which was seen as tedious and it is easy to buy fabrics that are imported from the west.
"With us at Ethnik, part of our goal is to help keep the weavers in their jobs, and see to it that the younger generations are encouraged to continue the art of weaving.
"This can only happen if the production and use of the fabric is encouraged," he says in an interview with Ogojiii.
At his small factory, he employs six other men who are involved in the manufacturing of the colourful accessories - sneakers, boots, sandals and handbags – helping them put meals on their families' tables.
Owolabi and his team have contracted weavers who manufacture the Aso-oke for the company instead of outsourcing it. This, he says, has helped stir the concept in the anticipated direction.
"A lot of times I have had to push them hard to see possibility where they see impossibility," he confessed, but that single act he admits "has helped the brand to standout because we are already having people copy what we do. They are our collaborators and they are willing to explore possibilities with us."
"In the old days, the women and men will pick cotton from the farm and process them locally into threads or wool.
"Then they dye them into the colours they require, again using leaves and tree barks because then there were no chemical dyes, before they are then woven. These days, the wools are bought from the market and woven," he adds.
Although the outsourcing has shortened the process, Owolabi believes it has cost him a bit in terms of authenticity.
"There was something really unique about the olden day process, which was evident in the texture of the fabrics they produced then."
That aside though, the connection with the customers Owolabi says has been "amazing".
In November 2014, he hosted an exhibition in Lagos to showcase his work.
"Some Nigerians never thought the fabric could be made the way we make them, and some foreigners never knew such beauty exist here, so its been an awesome mixed feeling of surprise and appreciation."
Ethink items are sold for between 27 and 50 U.S dollars each.
The former Governor of the Nigerian Central Bank, Professor Charles Chukwuma Soludo had once spoken about the need for Nigeria "to embark on a long-termstructured economic measure" to salvage the country's economy from hitting the red.
Owolabi like many other budding young entrepreneurs in the country heeded Professor Soludo's clarion call.
"The country is at the point where every contribution from all sectors are extremely important," he said.
"The dependence on oil over a long period of time has not helped other sectors grow. Now that the price of oil has fallen, this has forced the government and the citizens to look inwards and be creative.
"Government is looking at other opportunities that are available in other sectors and how they can grow them while individuals are channeling their inner strength and creative juices to provide jobs for themselves.
"What then happens is small businesses are coming up, helping to employ people who may have been laid off by big corporations or government organisations, people are paying taxes, and young people are encouraged to create from nothing as oppose to relying on being employed.
"It might be tough, but it is a good place for the country to be," he says.
Owolabi invested over 11,500 U.S. dollars in the business and has already made a profit of nearly 20,000 dollars from the sale of about 700 fashion pieces.
Recommended articles
Here's why buying a car may not solve all your problems
Aside from smoking and drinking, these factors could be damaging your kidneys
How to seduce your man: Insights from Reflo's TV Ladies
What nobody tells you about being a mother
World Heart Day 2023 - 6 ways to reduce risks of stroke and heart diseases
DIY Recipes: How to make ice cream cones
Why you keep attracting emotionally unavailable men
3 things you should do if you plan on going through your partner's phone
PCOS: The leading cause of facial hair and menstrual disorders in women.