Miss Universe 2022: How Afua Mofuman sold Ghana to the universe with her outfits
The 2022 Miss Universe Pageantry was held last Sunday, 15 January 2023, in New Orleans, Louisiana.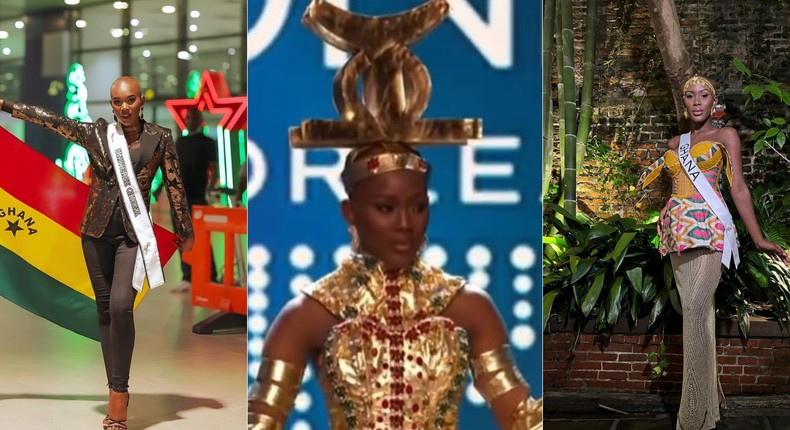 The 71st edition of the pageantry had about 90 women from around the globe representing their various countries.
One person we couldn't take our eyes off was Ghana's representative, Engracia Afua K. Mofuman.
The 27-year-old beauty queen caught the world's attention with her elegant outfits at the ceremony.
A professional model and a French, English, Spanish, and Portuguese translator, Afua K grew up in Ghana as well as several other African countries which spurred an appreciation for various cultures. This led her to pursue a master's degree in International Relations.
Mofuman's developing teaching career fuels her drive to eliminate illiteracy and better prepare rural children for higher education. She created the #PowerInThePencil Project, a drive aimed at teaching illiterate children in Ghana how to read and write, the most basic form of education.
Mofuman volunteers countless hours for several causes, one of which is her medical screening program at Nushum Female Prison. Here she works closely with medical experts to give inmates medical attention to curb high incidents of neglected chronic diseases such as hypertension and diabetes.
Mofuman is a passionate advocate for beauty in diversity. She aims to empower the world by spreading positivity and diminishing status quo beauty standards. She works tirelessly to promote equality, diversity, and inclusivity in the beauty industry.
Styled by several Ghanaian stylists, she curated stunning looks from houses; a move that will also go a long way to showcase Ghanaian originality and craftsmanship.
Below are some outfits that caught our eyes:
Pulse Ghana
Pulse Ghana
Recommended articles
Jameson widens the circle with Jameson Connects GH 2023: A celebration of freedom and creativity
7 foods you should be eating more for bigger butts
Ghana's gift to the world: How Idris Elba served the Ghanaian kente at Akwasidae
Top 10 most followed celebrities on Instagram – 2023
4 sexual fantasies women often have
DIY Recipes: How to make baked chicken balls
The best celebrity pictures on Instagram this week
5 reassurances your girlfriend needs to hear regularly
For women: 5 causes of a missed period apart from unsafe sex