Oheneyere Gifty Anti is serving the ultimate style inspiration for birthday celebrations
Nothing should stop you from making a bold fashion statement on your birthday.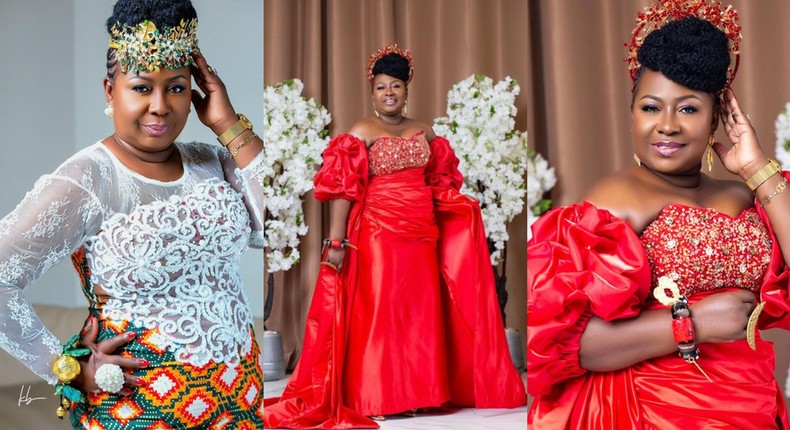 Ace broadcaster and women activist, Oheneyere Gifty Anti is a year older today, January 23, 2023.
Oheneyere Gifty Anti is among the great TV personalities with an elegant sense of fashion. She never seizes the opportunity to rock stylish African print dresses for her TV shows and other events.
Birthday comes as a blessing and choosing the outfit for the day is arguably the best part of the celebration. Not only is it the perfect excuse to get glammed up, but it can also symbolically reflect the things we want to do and the kind of person we want to be in our upcoming year.
The mother turned 53 years and she is celebrating this milestone in the only way she knows best; praising God.
Oheneyere Gifty Anti set tongues wagging with her birthday photos. She screamed royalty and elegance with her gorgeous red gown and African print ensemble.
Contoured to perfection, she accentuated her naturally striking features with mild makeup.
She captioned one of her posts, "Here she is…..
She prayed and the Lord said "go on… step out in Power and Go Influence"
So here she is… A woman of Power and Influence!!
Grace, Glory, Gratitude and Greatness!! Powered by God!!
Cheers to the next level!"
Check her beautiful photos below:
Pulse Ghana
Pulse Ghana
Pulse Ghana
Pulse Ghana
Recommended articles
How not drinking enough water could shorten your life - New study
For women: How to treat your vagina after sex
Stylish corporate workwear looks to rock this week inspired by Berla Mundi
Checking your partner's phone: Here's why this may be dangerous
How much is too much to spend on a plate of Angwa mo?
Floradish Formula: An innovative solution for people living with iron deficiency
Sympathetic pregnancy: Here's what to know about men who experience pregnancy symptoms
Belly Fat: 5 natural remedies to help you get rid of it
4 benefits of honey to the skin you didn't know