How to make chicken coconut peanut
Chicken coconut peanuts is a crunchy peanut butter-coconut flavour appetiser.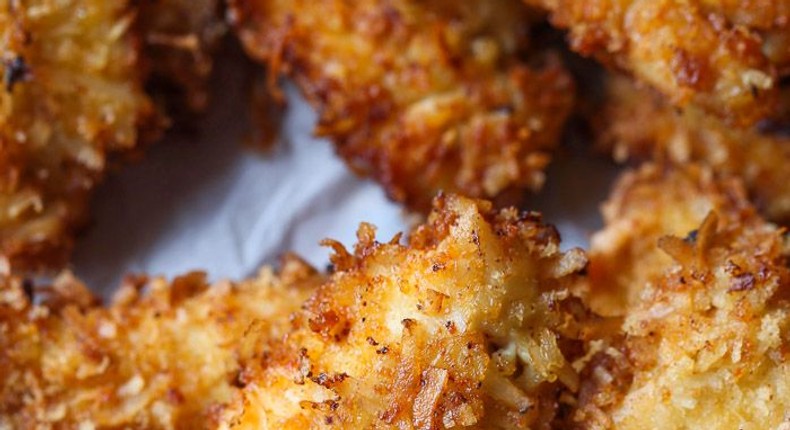 Chicken coconut peanut nuggets are pan fried chicken with a crunchy coconut coating.
This recipe is a really tasty and healthy appetiser with a combination of healthy proteins (chicken and peanut) and low-calorie fruit (coconut).
The lightly golden and crunchy texture of the chicken with the added flavour of peanut butter and coconut adds gives it a perfect twist.
2. 1 tsp Suya spice or dry pepper
8. Olive oil (or coconut oil)
9. 1 cup Shredded coconut
1. Cut the chicken breast into small chunks
2. Mix the suya spice, salt and seasoning cubes together in a bowl. Marinate the chicken with the spice.
3. Mix the coconut milk and peanut butter in a bowl.
4. Beat the egg white in a bowl
5. Dip the chicken into the egg and then rub with the coconut peanut butter mixture. Sprinkle shredded coconut on it.
6. In a well-greased skillet (grease with coconut oil or olive oil), fry the chicken for about 5 minutes or until it is golden brown. Make sure you flip the chicken so that both sides will cook properly.
(If you don't want to fry the chicken, you could bake it)
JOIN OUR PULSE COMMUNITY!
Recommended articles
DIY Recipes: How to make Apple bread
Dear men, 7 sexiest qualities you possess that attract women
How much should you spend on a wedding dress?
The best celebrity pictures on Instagram this week
Can walking after a meal help in faster digestion?
For men: 7 tips to help you have the best first-time sex
This is why revenge cheating on your unfaithful partner isn't a bad idea
8 signs your guy really wants to marry you
First kiss: Here's how to do it right to impress your partner