Try waakye with chicken stew, fried plantain and steamed cabbage
Pulse daily DIY recipe teaches prospective chefs how to prepare healthy, Ghanaian dishes in a simple way.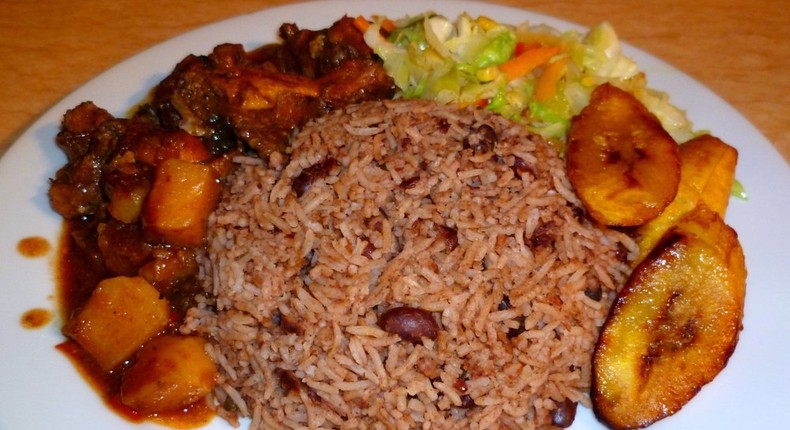 Cups of Brown rice
Cups of red beans
Millet stalks
Salt
 Remove all unwanted particles in the beans must be removed, washed and soaked overnight to reduce the cooking time.
 Boil beans in a large saucepan with enough water.
 Wash millet stalks quickly and add to the boiling beans.
Carefully examine the brown rice if is free from husks and stones.
Wash the brown rice, drain all water and remove the millet stalks before adding the rice to the beans when its soft.
 Add water to the mixture depending on how soft you want it and cover to cook.
Add salt and stir.
Ingredients for fried plantain
Ripe plantain
Cooking oil
Salt
Peel ripe plantain and cut in cubes.
Add water to plantain and sprinkle salt.
Heat a pan with vegetable and diced plantain.
Deep fry till golden brown, 5-7 minutes; transfer fried plantains to paper towel to drain excess oil. Set aside in a warm place.
Ingredients for steamed cabbage and carrots
chopped cabbage
Carrots grated
Onion chopped
Garlic clove chopped
Oil
Allspice
Salt
Scotch bonnet
Recommended articles
How to make love: 3 surest ways to have intense/multiple orgasms
Ladies: Here are 5 dangers of wearing waist trainers
Hookup sites: Here are 3 benefits of using these sites
DIY Recipes: How to make Apple smoothie
4 things in a relationship that must be kept a secret
How to make love: 4 types of role-play couples can do for great s*x
3 reasons you should apply lime juice on your face
Underweight? Here's how to gain weight the healthy way
DIY Recipes: How to grill catfish at home