DIY Recipes: How to make egg stew
Egg stew is one of the simplest sauces to make when you are hungry.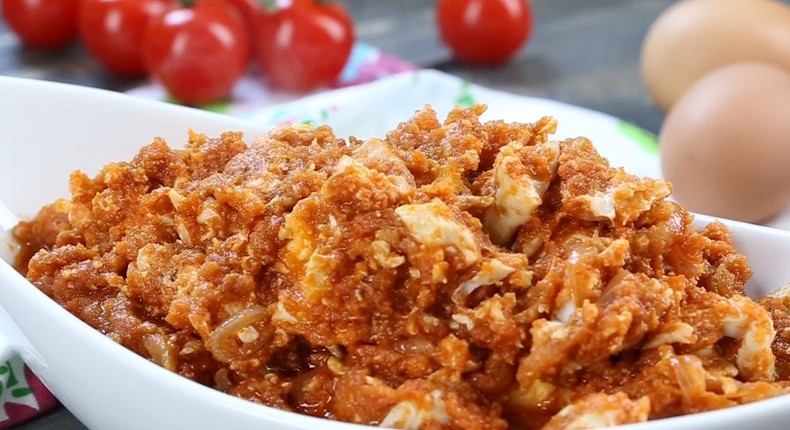 Egg stew can be served with boiled yam, plantain or rice.
scotch bonnet/ petite belle pepper/ green chilli as required chop finely
500g/1pound tomatoes (diced) about 8 tomatoes
1/2 teaspoon curry powder
1/4 teaspoon grounded white pepper
210g canned tuna flakes in oil (optional)
Pour oil into a wide saucepan on medium heat. Add diced onions, minced garlic and pepper. Stir continuously till onions are softened.
Add diced tomatoes, white pepper and curry powder. Stir, cover with a lid and simmer for about five minutes till the tomatoes are cooked through and no longer smell or taste raw.
Add diced bell pepper. Drain the oil from the tuna if using, and add to the saucepan. Taste and add salt as desired.
If you prefer egg yolks separate from the white in the stew, separate the egg yolks from the white. Make holes in the stew and each egg yolk in each hole. Cover and simmer for a minute or two, do not stir. Beat the egg whites together, make another set of individual holes, and pour bits into each hole. Do not stir. Cover and simmer for 5 to 6 minutes till the eggs are set.
Alternatively, beat eggs together. Make holes in the stew and pour bits into each hole. Do not stir, cover and simmer till eggs are set. This is to ensure that the eggs form big clumps.
Serve with any dish of your choice.
JOIN OUR PULSE COMMUNITY!
Recommended articles
Empowering women: Reflo's TV show inspires healthy relationships
Here are 8 most followed Ghanaian celebs on Instagram
DIY Recipes: How to make the perfect brownies
7 ways to stay friends with the opposite sex without catching feelings
Tactics con artists use before they scam you
3 reasons relationships that start in December may not last
DIY Recipe: How to make African drop doughnuts
5 things every young man in a relationship should know about women
The truth about feminine wash and perfumes