DIY Recipes: How to make palm oil sauce
This is a popular sauce in Ghana. It is mostly served with white rice or Ampesi.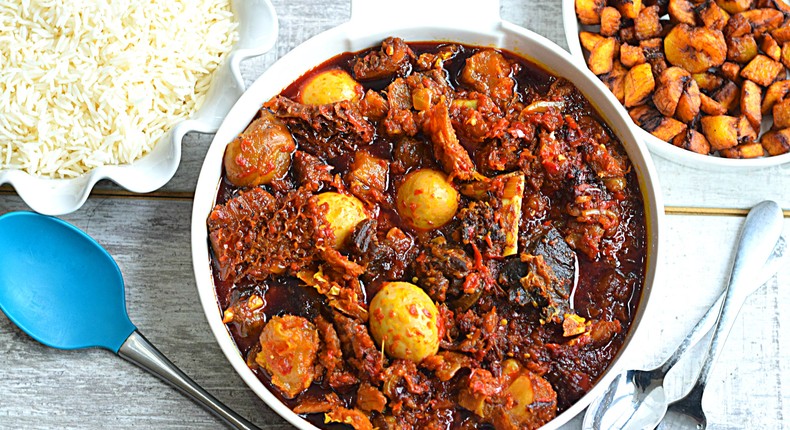 Palm oil sauce is very quick and easy to make.
10 pieces of fresh Tomatoes
2 smoked fish ( any fish of choice)
1 cooking spoon of Palm Oil
Wash, and grate the tomatoes and peppers. Peel and add the garlic while you grate.
Also, wash and nicely chop the onions separately.
Pick the bones off the fish and put them in a plate.
Set your pot on heat, add palm oil and allow it to heat up.
Add the chopped onions. Mix and allow to fry for 2 minutes.
When the time is up, turn in the grated tomatoes, garlic and pepper. Mix and allow to boil for a bit.
After boiling for a while, add the seasoning cubes, and salt to taste and mix.
Also, add the pieces of fish. Mix and allow the excess water to completely dry up before setting down from the heat.
Serve with rice or ampesi.
Recommended articles
DIY Recipes: How to make condensed milk toffee
Piesie Esther: The portrait of modest fashion
Cuddling, not sex, makes a relationship stronger – Study
Late-night eating may not automatically result in getting pot belly - Nutritionist
4 best ways to add rose water to your beauty routine
DIY Recipes: How to make fried doughnuts
In terms of class and sass, Nana Ama McBrown's recent slay is the epitome
Planning a destination wedding? 4 checklist to consider
5 unique ways to use leftover fruit and vegetable peels