Here's how to make this yummy milk tart
Yogurt is an incredibly creamy treat that is pretty much easy to prepare.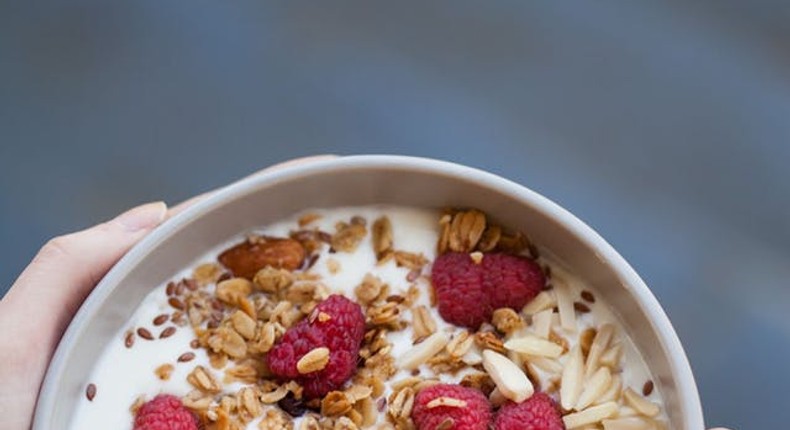 Yogurt is best described as milk tart.
This thick creamy and yummy drink is rich in protein and should be constantly taken to increase our daily recommended protein intake.
Luckily enough, making yogurt is pretty simple as you require just a few ingredients and no special equipment whatsoever to conjure this milk tart.
1. 3 Tablespoons of plain yogurt
2. 1 1/2 cup of powdered milk
1. Pour the powdered milk into a saucepan. Add water and heat up the mixture, stirring continuously so that the milk doesn't get burnt.
2. Remove the milk from the heat and allow to cool till it is just warm.
3. Add the plain yogurt into the milk and stir properly.
4. Sterilise some air-tight containers you can use to store the yogurt using hot boiling water.
5. Pour the yogurt into the containers and store in the oven (do not not turn the oven on, but you could turn on the lights in the oven) or in a warm place wrapped with a blanket and leave it for about 6 hours.
Your yogurt is all ready.
JOIN OUR PULSE COMMUNITY!
Recommended articles
DIY Recipes: How to make Apple bread
Dear men, 7 sexiest qualities you possess that attract women
How much should you spend on a wedding dress?
The best celebrity pictures on Instagram this week
Can walking after a meal help in faster digestion?
For men: 7 tips to help you have the best first-time sex
This is why revenge cheating on your unfaithful partner isn't a bad idea
8 signs your guy really wants to marry you
First kiss: Here's how to do it right to impress your partner