How to make Plantain frittata
This recipe is easy to make yet so tasty.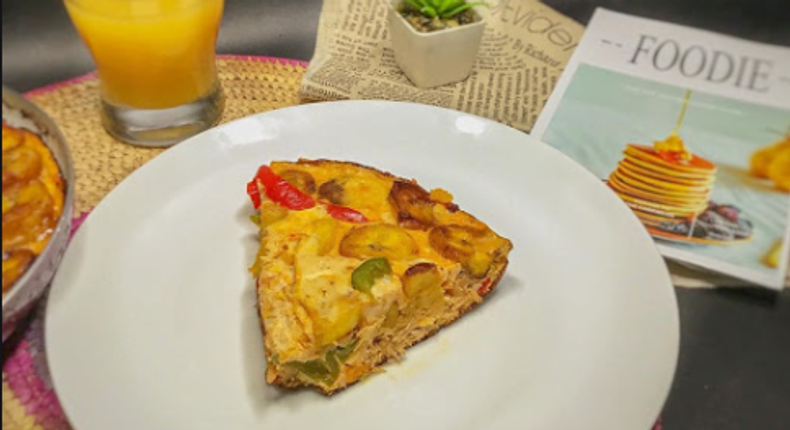 Plantain frittata is a delicious breakfast of plantain and eggs cooked slightly different.
3 medium sized ripe plantain
Peel and dice plantain into tiny round shapes and sprinkle with salt. Heat oil in a pan and fry the plantain until they are golden or brown. Drain from the oil and set aside.
Place and empty pan on a gas, add about 2 tablespoons of cooking oil to it, add onions and sauté for 1 minute. Add sausage and stir fry for few minutes, followed with bell peppers and tomatoes. Season with curry, thyme, dry pepper, 1 stock cube and a pinch of salt to taste and set aside to cool
Beat eggs in another bowl, transfer the content in the frying pan into the egg.
Place an empty pan on the gas, spray with cooking spray to coat the inside of the pan. Pour the egg mixture or the filling into the coated pan and level it. Arrange the fried plantain round the pan until it takes the shape of the pan.
Add few bell peppers stripes for a pop of colour, cover the lid and cook on a low heat for 20 minutes until it begins to set and cake nicely.
Take it off heat once it has set. Your plantain and egg frittata is ready.
Serve.
JOIN OUR PULSE COMMUNITY!
Recommended articles
DIY Recipes: How to make Air fryer Popcorn
The best celebrity pictures on Instagram this week
4 foods that make your buttocks bigger naturally
Dear women, these 5 gestures make men feel loved
How smoking weed affects your vag*na, s*x
DIY Recipes: How to make Mixed Vegetable Jollof
Honeymoon: Here's what it means and why it is important for couples
Vag*nal health: How good, safe s*x make the vag*na healthy
Emelia Brobbey takes black dresses to next level with her sensational look