How to prepare 'Kontomire' stew and boiled yam
Pulse daily DIY recipe teaches prospective chefs how to prepare healthy, Ghanaian dishes in a simple way.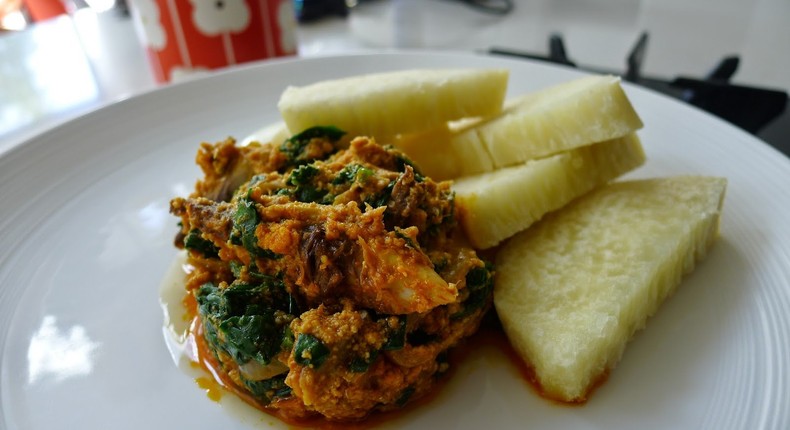 ¼ cup Palm Oil or Vegetable Oil
1 maggie cube
½ salmon
Pepper
Agushie
Garlic
Chopped kontomire
1 chopped onions
3 large diced tomato
Yam
Directions
Heat the oil in a medium pan and fry the onions and garlic until golden. Add pepper and the tomatoes.
 Cook for 10 to 15 minutes on low heat, stirring regularly but not continuously.
Wash kontomire and cook until it becomes soft.
Wash salmon, remove all bones and break into pieces and add to the stew.
Pour agushie in a bowl, add salt and stir. Add the maggie cube and mixture to the stew
Drain any water from thawed out kontomire and add the it to stew. Cover and simmer on low heat for 10 to 15 minutes.
Stir regularly, taking care not to break up the fish too much.
Allow to simmer under low heat while you peel the yam.
Cut into cubes, wash twice and boil with enough water. Add salt.
When yam is soft, pour water and transfer to plate.
Serve yam and kontomire stew.
Recommended articles
DIY Recipe: How to make Dzenkple
5 types of people you should never date
The best celebrity pictures on Instagram this week
Dear women, here are 5 things you do that men find confusing
4 side effects of drinking alcohol excessively
DIY Recipes: How to make goat meat jollof rice for Africa Day
Africa Day: 7 iconic traditional outfits for your wardrobe
Celibacy: Here's how this sex halt helps your relationship
4 effective home remedies to treat diarrhoea