Michael Agyeman paints a perfect picture of the relationship between Ghana and Nigeria when the question 'What do Nigerians think of Ghana and Ghanaians?' was asked.
He wrote:
'I am Ghanaian. I get the feeling Nigerians see us as being smaller brothers, slightly dumber and more clean-cut, less street-wise than they are themselves. Kind of like Americans see Canadians. There is a lot of respect between the two nations and a lot of closeness, even though there are two countries between us, but Nigeria is bigger, richer and so more influential and as such the average Nigerian feels bigger than the average Ghanaian, but not in an offensive way.'
From football, Jollof war to who usually has electricity, the love between Ghana and Nigeria has never been displayed in so much fake hate.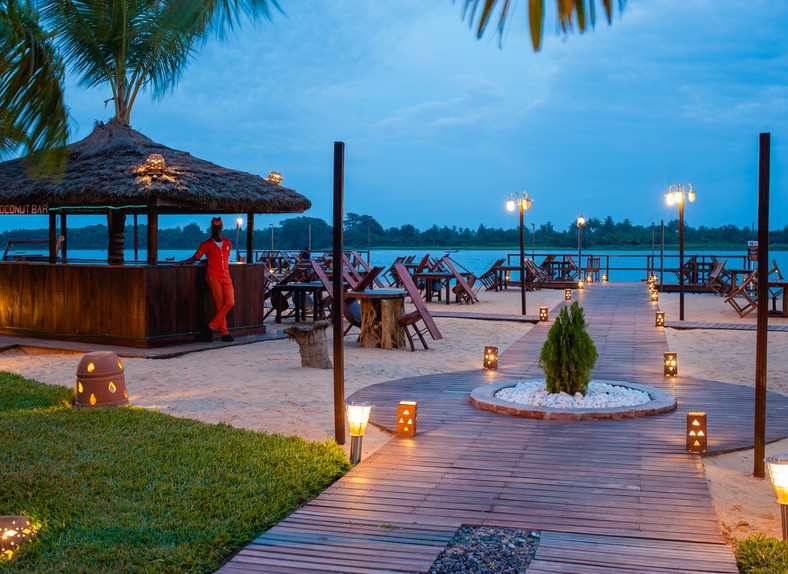 Bojo Beach Resort
So, when the CNN published the article 'Ghana is being heralded as the next big tourist destination' on February 7, 2019, Nigerians were not just going to let it slide. They had to react and, as expected, they did.
In September 2018, Ghana's President His Excellency Nana Addo Dankwa Akufo-Addo formally launched the 'Year of Return, Ghana 2019' for African in the Diaspora in Washington D.C.
President Nana Akuffo-Addo encourages Black Starlets to attain excellence
"We know of the extraordinary achievements and contributions they [Africans in the diaspora] made to the lives of the Americans, and it is important that this symbolic year—400 years later—we commemorate their existence and their sacrifices," President Akufo-Addo said.
Ghana's tourism minister, Catherine Afeku has also launched a host of programmes in addition to the 'Year of Return' to boost tourism in the West African country, a scheme that won her an award as the most active tourism minister in West Africa.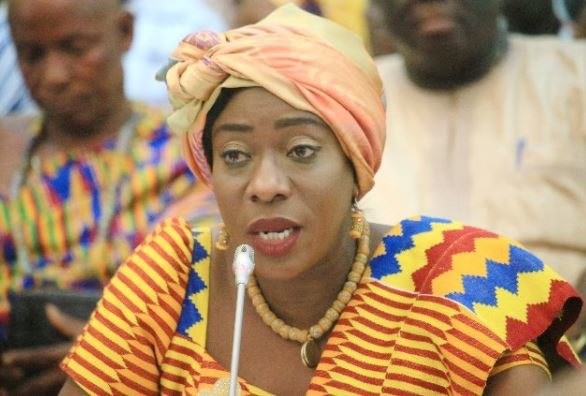 Catherine Ablema Afeku
Tourism arrivals from Ghana according to the Ghana Tourism Development plan moved from 456,275 in 2000 to 837,501 in 2011. The receipts from the arrival also moved from 290 million dollars to 1.6 billion respectively and Ghana is looking for more.
The country projects to raise 8.3 billion dollars from tourism every year by 2027. Ghana's 15-year tourism plan also aims at increasing the number of tourists from a million to eight million by the year 2027.
This, has been a task tourism minister Catherine Afeku is not taking lightly.
"We should put on our thinking caps and create that enticing environment for tourism to be the talked about ministry. Because it is a job creation avenue. Most countries live on tourism so I intend to make history with tourism industry as a viable GDP contributor," Catherine said in January 2017.
Her talk has since been backed by a host of activities that is actually aimed at bringing more people to see Ghana.
Ghana's tourism minister made some local celebrities ambassadors for the country's tourism, a bid to push its goodness to the world. The country further took over as hosts of the All Africa Music Awards, one of the continent's biggest music awards to take hold of an agenda, visit Ghana.
2018 saw a lot of international star power make their way to the small country in West Africa. Boris Kodjoe, Idris Elba, Naomi Cambel, Lil Jon, Collin Kaepernick, Arsene Wenger, Michael Blackson, Jerome Boateng, Bozoma Saint John among others visited Ghana for various reasons.
Some of these guests who made their trip during the Christmas period made it to events including Sarkodie's Rapperholic, Afrochella and others as a means to boost tourism by reaching out to the diaspora.
This, and many other initiatives from Ghana's Tourism Development plan has gained international recognition.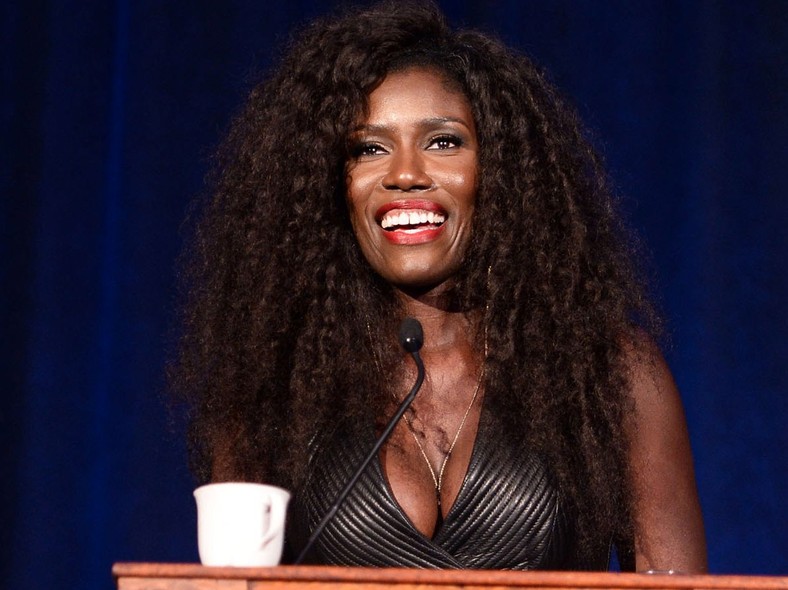 Bozoma Saint John.
"I really felt that I wanted to show people the country I know and love. I take it as a personal mission and will use my professional weight to help the mission," Bozoma Saint John told the CNN about using her skill set to market Ghana to the world.
After Ghana's tourism prowess and scheme were laid out to the world through the CNN article, Nigeria got jealous. Not jealous, jealous. But jealous in the kind of way their relationship with Ghana has been.
Beach in Ghana
Nigeria is set for its presidential election on Saturday, February 16, 2019.
As part of campaign measures, a giant broom has been erected at the Abuja city game. The All Progressive Congress, Nigeria's ruling party has its symbol as a broom.
Nigerians feel the project is being sponsored by their President Muhammad Buhari and his team. Reports indicate President Buhari's camp has denied being behind the giant broom project.
However, that has not stopped Nigerians from showing their sense of humour as Ghana is being heralded as the next big tourist destination on the continent, Africa.
One of the best sarcastic tweets on CNN's article about Ghana reads:
"Hey CNN, my country Nigeria just mounted a giant broom in Abuja. Please help us tell tourists to come and see. We also have Mugabe's statue in IMO. Our customers are on your TL."
At a glance, the tweet looks funny and witty. But knowing how Nigerians have mostly wanted to have the good things Ghana has and vice versa, it creates a very gloom scenario of how politics can potentially ruin a lot of things on the land.
According to a report by the World Travel & Tourism Council, the total contribution of travel and tourism to employment in Nigeria including wider effects from investment, the supply chain and induced income impacts was 1, 793,000 jobs in 2016.
The forecast was to have tourism support Nigeria with 2,598,000 jobs which is 4.2% of total employment. 
With the unemployment rate in Nigeria hitting 23.1% in September 2018 according to the National Bureau of Statistics (NBS), that tweet to CNN was no joke from the average Nigeria.
It was an approach to tell how Nigerian citizens would want to have their funds used for projects that aim to benefit them. Not like how the continent has seen its funds being misused during political seasons for personal gains.
Ghana is no different in this scenario. And so are many African countries.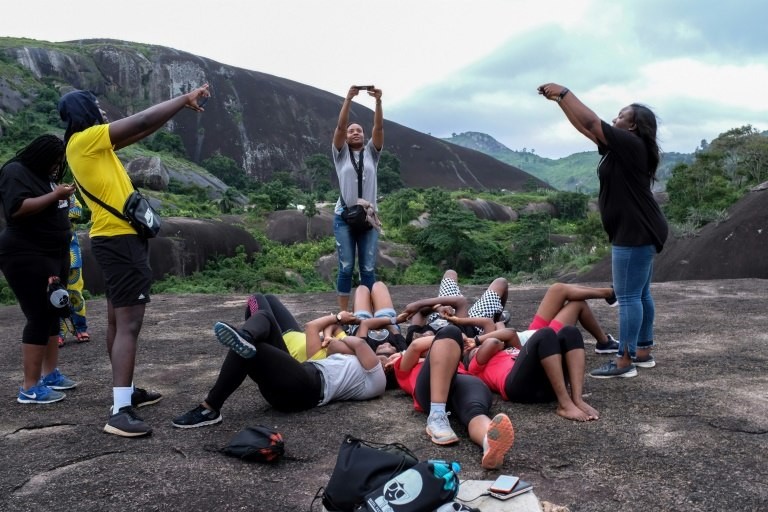 Unravelling Nigeria is among social media initiatives helping make up for a lack of official tourism promotion in the last 30 years
But on tourism, Nigeria would like to have what Ghana has. Even if it's just the hype. Just like they've always liked to have the kind of Jollof rice Ghana has.
Nigerians don't have it now so their only resort now is to sarcastically ask tourists to check out their giant broom statue as Ghana receives accolades for taking pragmatic steps in boosting tourism.
And hope that someday, the attention will be on something worthy to see and not just a giant broom mounted for political gains.