How a busy dad of 3 stays fit
Jeremy is the group education director for Matrix Fitness, a fitness equipment company, and a master trainer for ReebokONE, Dynamax Medicine Balls, and Trigger Point Performance.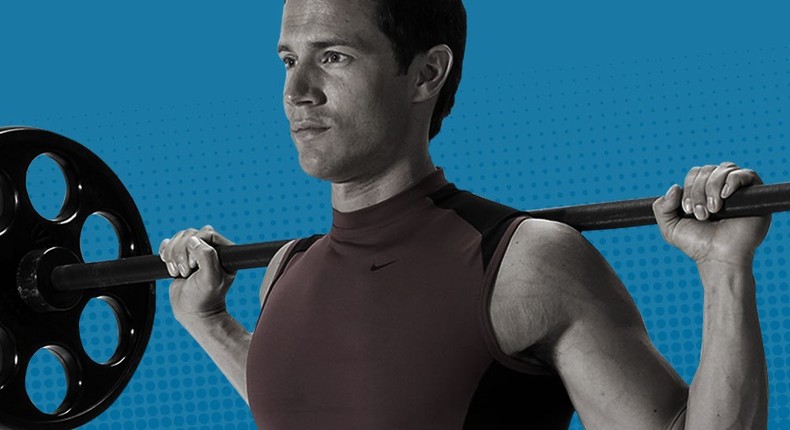 Try these two workouts to get more done in less time
In this episode of the Men's Health SweatCast, fitness director BJ Gaddour interviews fitness expert Jeremy Shore.
As part of his job with Matrix Fitness, he has to travel all over the country and that can make it really hard for him to stay in shape.
So one of Jeremy's go-to workouts is what he calls Sprint 8, which is a research-proven cardio interval workout that has you go all out for 30 seconds with 90-second recovery periods for 8 total rounds.
"You have to go at a speed and level of resistance that makes you want to quit around 20 to 25 seconds in to really make this protocol work," he says. You can use any cardio machine you'd like to perform this routine, which takes only 16 minutes.
Jeremy is also a big fan of metabolic conditioning circuits where you group a bunch of non-competitive moves together (like pushups, squats, lunges, rows, and planks) and hit them back to back with short rest periods between moves.
In 30 minutes, you can get a great total-body workout that will build muscle, burn fat, boost metabolism, and bump up your energy levels.
Check out the whole episode to learn more about Jeremy's story. The topics covered include:
How to stay in shape as a busy dad
The benefits of medicine ball training
The benefits of trigger point work
The "Strength to Serve" mission
And much more!
Recommended articles
Here's why buying a car may not solve all your problems
Aside from smoking and drinking, these factors could be damaging your kidneys
How to seduce your man: Insights from Reflo's TV Ladies
What nobody tells you about being a mother
World Heart Day 2023 - 6 ways to reduce risks of stroke and heart diseases
DIY Recipes: How to make ice cream cones
Why you keep attracting emotionally unavailable men
3 things you should do if you plan on going through your partner's phone
PCOS: The leading cause of facial hair and menstrual disorders in women.