Film maker uses Valentine's Day film to highlight sanitation issue
A Blogging Ghana #ByTheFireside event in Accra featured a short film that shows how wrong a Valentine's Day date can go when there's no toilet in a house, followed by a talk on abstinence by Akumaa Mama Zimbi.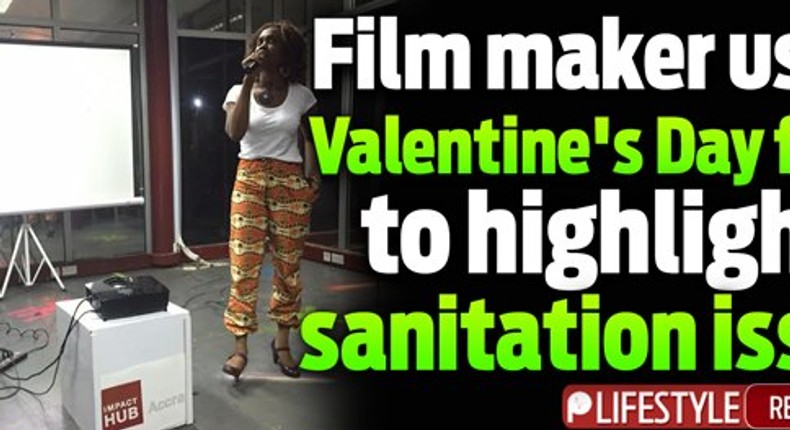 A local filmmaker is using romance and an upset stomach to highlight the need for home toilets in Ghana.
At the Blogging Ghana #ByTheFireside event in Accra on February 3, Fiona Worlanyo Aku Ansa, also known as Aku PurpleHeart played her award-winning short film, which shows how wrong a Valentine's Day date can go when there's no toilet in a house.
The short film starts out with  a man courting a woman on Valentine's Day at his house, offering her a meal he has prepared for her. As he goes in to kiss her, she pulls away saying she needs to use the bathroom immediately.
Aku said her film, which uses humour to get across its important message, was inspired by a personal experience.
She said the lack of toilets in Ghana was something everyone could relate to.
"I have always wondered why people build houses with no toilets. I think this really has to end because having a toilet facility in the house is one of the most important things every individual house needs to have."
"This is something quite a lot of people can relate to. This is something we see a lot everyday, this is an issue that needs to be addressed."
The film was in Ga which Aku felt made it more authentic and relatable.
Aku Ansa also used her talk to allude to sexual harassment in the film industry. She initially wanted to be an actor but producers would ask her to "prove" herself, to "do something else" to get the job.
This inspired her to get into producing her own films so she can act in them, and give other people a chance to act "without having to do things for people".
Speaking of her campaign she said "I kept encouraging, educating, empowering you need to wait until that appointed time with the rightful person."
She advocated " no marriage, no sex" and also said men should not spend money on women until they married.
"It's about making the right decisions," she said.
She said waiting until marriage would save lives.
Akumaa Mama Zimbi took questions from the audience, where it was asked if she would be willing to bend her rules to promote safe sex, she replied with a firm "no".
During the questions and answers she also revealed her signature headgear was made of at least 8 yards of fabric.
Recommended articles
In terms of class and sass, Nana Ama McBrown's recent slay is the epitome
Planning a destination wedding? 4 checklist to consider
5 unique ways to use leftover fruit and vegetable peels
6 best home remedies to clear ugly pores
Hickies after sex? 4 quick ways to get rid of this love bite
How to dress stylishly for your birthday inspired by Anita Akuffo
For men: How exercise affects your testosterone levels
4 best ways to use rosemary for hair growth
7 body parts you must clean every day to avoid body odour