Curator Raphael Chikukwa has a mission to lift local art and design from a "zone of silence"
For decades, stone sculpture has been the mainstay of Zimbabwean art and has been deployed to tell its pre-colonial, colonial and post-colonial stories.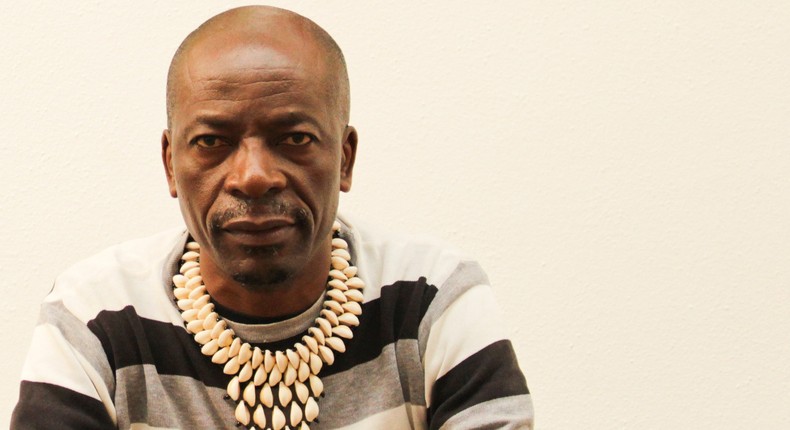 Images by Kresiah Mukwazhi
LIKE DINOSAURS, THE STONE CARVINGS LINING the entrance to Raphael Chikukwa's office and the National Gallery of Zimbabwe's garden are a symbol of the country's rich art history – but they hardly tell its future.
For decades, stone sculpture has been the mainstay of Zimbabwean art and has been deployed to tell its pre-colonial, colonial and post-colonial stories. Pieces still adorn major galleries. A permanent exhibition of 20 pieces stands in Atlanta Airport, testimony to stone sculpture's resilience in de ning Zimbabwean art – until now.
"Zimbabwean sculpture has been displaced," says Chikukwa, the chief curator of the national gallery. "One may argue that it's because it's been too repetitive. I would like to see more surprises from the Zimbabwe sculpture movement. They are yet to come, though we should not count them out," says the 49-year-old, who started sculpting when he was a rural boy and is now behind a revolution.
From the ruins of sculpture, design – symbolised by craft and traditional architecture – is emerging. "Design is part and parcel of our daily life. It is the future, so we have to pay close attention to it," says Chikukwa.
He should know: Chikukwa spends more time attending international and local art fairs than he does in his office. His travels are mainly to fulfil his dream of taking Zimbabwe out of what he calls "a zone of silence", its isolation from the international scene.
He has had barely 30 minutes in the office in three weeks when we meet. "I am sorry I have been travelling too much," he says apologetically – not to me, but to Ignatius Mabasa, a local writer with whom he is working on a book chronicling Zimbabwe's history.
I have to stand in the corner until he is done with Mabasa, because there aren't enough chairs for all of us. The lanky curator has just arrived back from the Basel Art Fair. Before that, he was – for the third time in a row – curating the Zimbabwean pavilion at the Venice Biennale. Between promoting Zimbabwe's story abroad, Chikukwa – a Kingston University MA graduate in the curation of contemporary design – meets potential donors, curates young talent at the national gallery and works as a trainer, jury member and curator for art fairs in Africa and elsewhere.
"For us it is very important to be able to take part in some of these forums, because we will learn a lot and provide a platform for networking with the design community," he says. Chikukwa believes the revolution from sculpture to design in Zimbabwe is something of the old becoming the new. As a curator, he admits that design appears to be a Western concept, yet the wow factor in Zimbabwe is coming from age-old local concepts.
"We don't have to look far," says Chikukwa. "If you go to the village today design is an everyday part of life, and yet we do not think of it as design. But it is coming into the mainstream. What others call craft, we are calling design."
In 2015 the national gallery ran an exhibition titled Zimbabwe Design: The traditional kitchen, which Chikukwa says "brought design we never thought of to the public domain". Curated by national gallery director Doreen Sibanda and renowned graphic designer Saki Mafundikwa, the exhibition brought to life the architectural design behind African huts.
Recommended articles
Hickies after sex? 4 quick ways to get rid of this love bite
How to dress stylishly for your birthday inspired by Anita Akuffo
For men: How exercise affects your testosterone levels
4 best ways to use rosemary for hair growth
7 body parts you must clean every day to avoid body odour
5 simple ways to make your first date a pleasant experience
DIY Recipes: How to make plantain crepes
Stylish corporate workwear looks to rock this week inspired by stylist Akosua Vee
How no verification casinos are responding to increasing security concerns