Outcycling the past (Part 3)
The riders are driven because they want to put Rwanda on the map as a country of skilled cyclists, not just the country of genocide.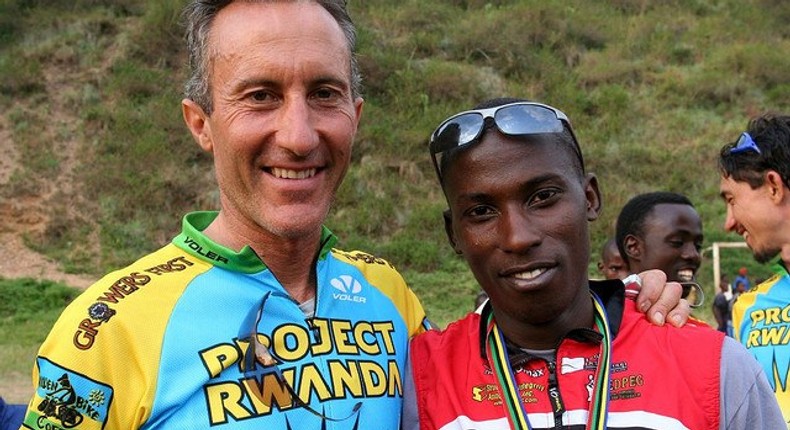 Written by Elles van Gelder
Boyer and the intense focus on cycling have united the group of young men. Both orphan Hategeka and Niyonshuti, Hutu and Tutsi, say they found a new starting point for their lives when joining the team.
"The genocide is in the past," Niyonshuti says.
"For Team Rwanda, we stay together, we talk together, help together. I don't think there is anything separate. I have lost so many people that I want to make as many friends as possible."
Hategeka says, "This is my new family".
They look out for each other.
In the African Championships held in Rwanda in 2010, where cyclists could qualify for the Olympic Games in London, it was not top-dog Niyonshuti who took the lead for a long stretch, but Hategeka.
When Hategeka fell back, Niyonshuti attacked his pedals. His chain broke. Hategeka gave him his bike.
Niyonshuti lost too much time and couldn't rally enough to qualify, but thanks to Hategeka, he had a chance.
He did qualify for the cross-country mountain bike race. He came in 39th but carried the Rwandan flag with pride during the opening ceremony, making his country proud.
Boyer's dream is to one day send an African team to the Tour de France.
The talent required is there, he says, but money is a problem. International cycling is a high-tech, corporate-sponsored world.
The riders jump on their bikes. Boyer rides with them, and today they will spend about two hours on the saddle.
Along the way they pass a roadside group of genocidaires, the perpetrators of the genocide, in familiar pink prison uniforms.
Just outside Ruhengeri, a transport biker tries to keep up. For 200 yards he pedals like a man possessed, then, gasping, he concedes.
Coach Boyer has discovered more than one new talent this way.
Boyer wants to teach the team a lesson in tactical racing. He's charged the weaker sprinters with tiring out the strong ones before the sprint begins, a strategy with which weaker sprinters can still win a race. Teamwork is essential.
"They all work for each other. They have been putting their own sacrifices on the line for each other," Boyer says.
He seems pleased with what that says about the relationships among the team.
The rider that was promising on the Velo Tron testing bike is struggling on the road.
The curves are steep and the team races through small villages at high speed.
He leans too much to the side and crashes. He is full of bruises and his front wheel is broken.
Boyer tells him to take a taxi back to the training base to hand in his bike and go home.
All year round for 2-4 hours per day.
Budget and equipment costs
Annual budget: US$300 000
Value of equipment donated or discounted: $150 000-$200 000 per year
- Vittoria Tires (thousands of tires over the past 6 years)
- Louis Garneau (kits and helmets worth $10 000-$15 000/ year)
- Reynolds Wheels ($25 000 worth of wheels this year)
- All saddles are donated by Selle Italia
- The Rwandan government helps with some plane tickets and underwrites the Tour of Rwanda
- After the 2014 Tour of Rwanda win, President Kagame committed to 18 new race bikes and 8 new TT bikes for the team. These are Pinarello frames with Campagnolo gear groups, both highly discounted.
JOIN OUR PULSE COMMUNITY!
Recommended articles
10 ways to keep your clothes wrinkle-free without ironing
Foods that can worsen your acne
Make ketchup at home with ripe tomatoes
7 advantages of having children in your 30s
If you can't do these 3 things with your ex, you're not ready to move on
5 things a cheating partner says that prove they cheated
DIY Recipes: How to make shawarma bread using oats
5 signs they are the villain even if they claim to be a victim
Moaning during sex is such a good thing, according to sex experts