2020 election defeat was God's doing - Mahama
Flagbearer of the National Democratic Congress (NDC) in the 2020 general elections, John Dramani Mahama has attributed his loss to God's will.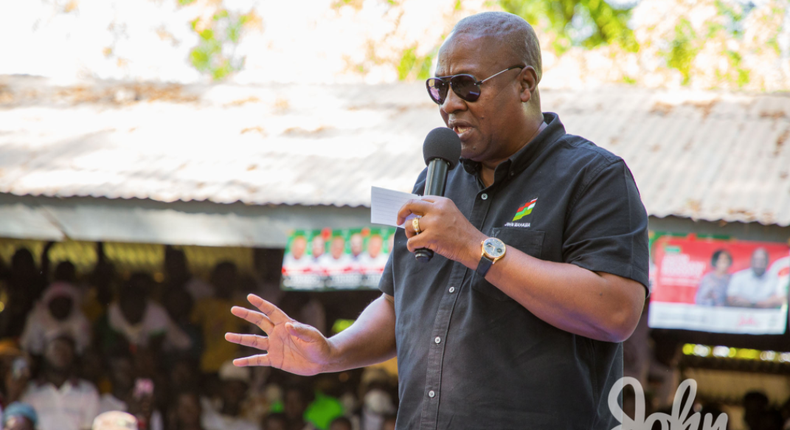 The former president said Ghanaians voted massively for him but God didn't affirm the victory for various reasons.
This was disclosed in a speech delivered on his behalf by a former Minister for Food and Agriculture, Alhaji Limuna Mohammed-Muniru, said although Ghanaians endorsed him over his main contender (Akufo-Addo) at the December 7 polls, God in His flawless wisdom chose to shelve the power meant for him (Mahama) for the moment in the NDC's best interest.
"The former President says you have shown him love by endorsing him overwhelmingly. You gave him your mandate but God didn't give him the power. And he says I should tell you that God doesn't make mistakes. He may have very good reasons why God didn't give him the power.
"It is not all that glitters that is gold. Today, if John Mahama were in power and we have dumsor (regular power cuts) what would you say? So, God in His own wisdom knows that the people who have done the 'shitting' must come and clean their own 'shit' before we come properly. So, when they finish cleaning it, Insha Allah, come 2024, I can assure you," relayed Alhaji Mohammed-Muniru.
The former Upper East Regional Minister delivered the message when he led a delegation of NDC bigwigs on behalf of the former President to a durbar organised in Nabdam, a district in the Upper East Region, to mark the 10th anniversary of the installation of Na Pa-Riyoung Kosom Asaga Yelzoya II as the Nangonaab (the Paramount Chief of Nangodi).
The Electoral Commission (EC) declared victory in December 2020, for the governing New Patriotic Party (NPP) led by President Nana Addo Dankwa Akufo-Addo at an election the NDC strongly believes it won.
JOIN OUR PULSE COMMUNITY!
Recommended articles
Police arrest 17-year-old boy for having sex with a cock
ECOWAS and Media Foundation for West Africa sign partnership to enhance media freedom
Thank you for having my back; I always have yours - Dampare to Security chiefs
None of our mineral resources has developed Ghana - Lawyer Jantuah
Senya Bereku residents clash with soldiers over disputed land
Ghana blows $2.6 billion to import 'Obroni Wawu', sugar and other products in 2021
Akufo-Addo's government has shown to be a listening one – Oppong Nkrumah
Good-for-nothing Special Prosecutor must get corrupt cases done — NPP Youth Organiser
Shalimar Abbiusi's parents in tears, request her release, claim she's been kidnapped