Kamala's comment on anti-LGBTQI+ bill undemocratic — Bagbin fires
The Speaker of Parliament, Alban Bagbin, has taken swipe at the Vice President of the United States of America on the anti-LGBTQI bill.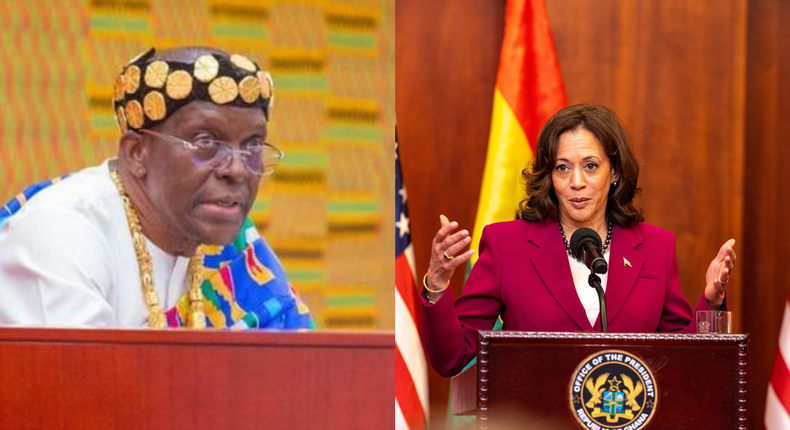 He described her stance on the bill as undemocratic.
Kamala Harris added her voice to the debate over the passage of the Proper Human Sexual Rights and Ghanaian Family Values Bill 2021 currently before Parliament to criminalize the activities of Lesbians, Gays, Bisexuals, Transgender, and Queer (LGBTQ+) activities in Ghana.
She said the anti-LGBTQI+ bill since it is an affront to the minority group in the country.
Kamala Harris said it bordered on human rights.
Reacting to a question posed to her at the seat of government in Accra, she said every person has the right to live as he or she wants.
"Let me be clear about where we stand. First of all, for the American press who are here, you know that a great deal of work in my career has been to address human rights issues and equality issues across the board including those related to the LGBT community.
"And I feel very strongly about the importance of supporting the freedom and supporting and fighting for equality among all people and that all people be treated equally," she stated.
She added: "I will also say that this is an issue that we consider and I consider to be a human rights issue and that will not change."
On the part of President Nana Addo Dankwa Akufo-Addo, he said Ghana currently doesn't have any law that criminalizes the activities of LGBTQ+ persons.
Nana Addo answering a question asked at the Jubilee House on Monday, March 27, 2023, when US Vice President Kamala Harris called on him, confirmed that the bill is currently before Parliament and yet to be approved by the lawmakers.
He said: "It hasn't been passed, so the statement that there is legislation in Ghana to that effect is not accurate.
But Bagbin said "the Vice President of the USA, Kamala Harris did yesterday, these things should not be tolerated, that is undemocratic. What is democracy? That someone should have to dictate to me what is good and what is bad? Unheard of, because we have decided to devalue ourselves and go begging? Come on, we have more than enough. God has created more than enough for every person, the Bill will be passed."
He also slammed President Nana Addo Dankwa Akufo-Addo that he has no authority to intervene in the proposed anti-LGBTQ bill which is currently before Parliament.
"A word to the President, Nana Addo Dankwa Akufo-Addo. There's no way he can intervene. That answer he gave, wait until we pass it, and we will direct you to execute it, that is where you come in. In terms of the law which is part of the policy, we will finalize it, then the executive has the authority to implement it. Let's get this clear," he stated.
The Bill if passed into law proposes jail terms for people who engage in same-sex activities and various forms of support for the LGBTQ+ community.
The anti-LGBTQ bill, titled, "The Promotion of Proper Human Sexual Rights and Ghanaian Family Values Bill 2021", was submitted to Parliament in June 2021.
The bill, among others, seeks to make it a crime to be LGBTQ+ or to advocate LGBTQ+ rights. Offenders could face jail terms.
Section 6 of the LGBTQI+ bill, states that "a person commits an offence if the person holds out as any other sexual or gender identity that is contrary to the binary categories of male and female."
However, the Bill in Section 6 (c), (f) (ii), and (g) (ii), exempts intersex people who 'agree' to undergo sexual reassignment to correct their 'abnormality'.
The submission of the bill to Parliament elicited a major public debate over its appropriateness.
Many religious organizations and like-minded institutions and individuals have expressed their full support for the bill to be passed into law while some civil society organizations (CSOs) and other campaigners had opposed it with the explanation that it would infringe on the human rights of LGBTQ+ people in the country, and subject them to persecution and violence.
Recommended articles
Expect more flooding in Accra - Ghana Meteorological Agency warns
Alan cannot be the solution to the mess he participated in creating — Sammy Gyamfi
Alan Kyerematen quits NPP: Read his full resignation speech
Here are 5 reasons Alan Kyeremanten will contest 2024 elections as an independent candidate
I'm resigning from the NPP to contest as an independent candidate – Alan Kyeremanten
About 2.4 million Ghanaians suffering mental illnesses — WHO
Accra Regional Police Commander summoned for assault on #OccupyJulorbiHouse protestors
NDC MP Francis Sosu presents bill to remove 15% tax on sanitary pads
Insurance Companies In Ghana: Knowing the board of Prudential Life Insurance