Beautiful photo of Samira Bawumia and her family breaking fast
The family of Vice President Dr. Mahamudu Bawumia is part of millions of Muslims around the world fasting this Ramadan period.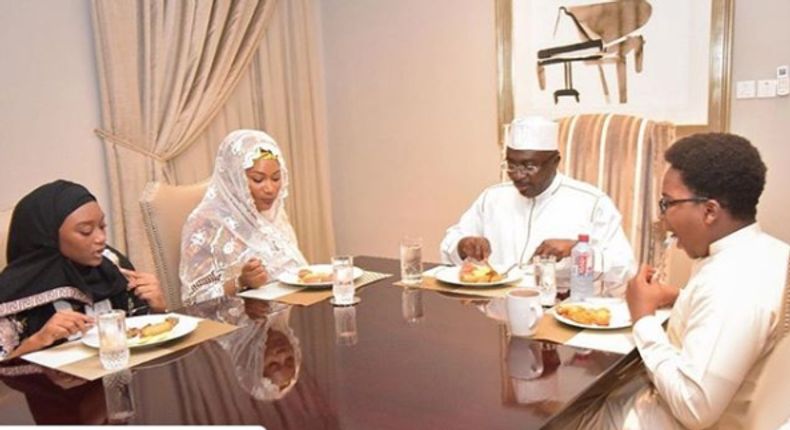 About 1.8 billion Muslims are fasting around the world in the midst of Coronavirus.
And Ghana's second family have been doing same.
During this Ramadan period Muslims abstain from from eating, drinking, smoking and sex from dawn to dusk.
Families and friends usually gather to break the fast and many attend prayers.
But the congregation by families and friends can't be possible tis year due to restrictions imposed by countries to curb the spread of the coronavirus have closed mosques and banned gatherings.
This year, however, people are having to mark the holy month at home instead.
Second Lady, Samira Bawumia shared a beautiful photo of her family breaking their fast on Friday, May 15.
Ramadan is the ninth month of the Islamic calendar.
Recommended articles
Church of England launches project to stop referring to God as 'He', 'Him' and 'Our Father'
Ken Ofori-Atta should be chased out of office by the military – Yaw Tano
Enchi constituency: 14 persons arrested in connection with disturbances at NPP elections
University of Ghana converts plastic waste to petrol, diesel and gas
Police pushed cannabis into his throat in our absence - Shadrach's sister alleges
Ablakwa vs Kusi Boateng: NDC condemns judicial abuse and despicable efforts to gag MPs
Meet Alphonsus Adu-Bredu an NSMQ alumnus developing wild robots
You are not a preacher, you are a witchdoctor – Prophet Oduro slams Kyiri Abosom
GH₵50m worth of cannabis destroyed by NACOC