E-levy: 2022 'Agyenkwa' budget will make us desist from borrowing - Buaben Asamoa
The Director of Communications of the New Patriotic Party (NPP), Yaw Buaben Asamoa has said Ghana can end borrowing from foreign organisations when the 2022 budget statement and economic policy of the government is passed by Parliament.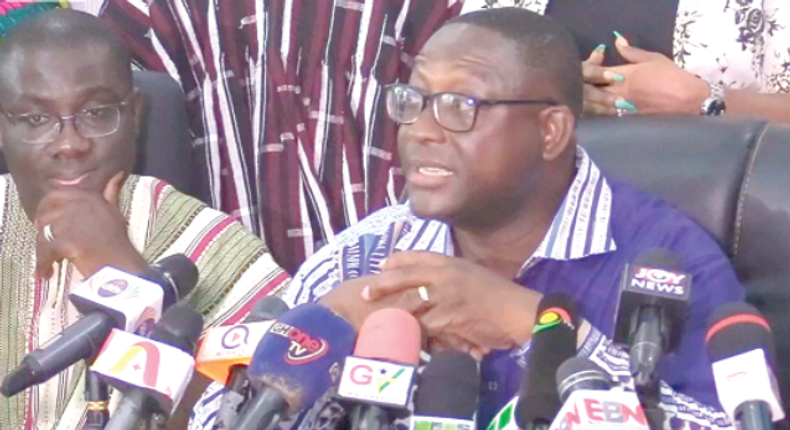 He described the budget as "unique" that will help the country from excessive borrowing.
The Finance Minister, Ken Ofori-Atta presenting the budget in Parliament on Wednesday, November 17, 2021, outlined key policies the government has already done and will do in the future.
The budget dubbed is 'Agyenkwa' budget which means 'Saviour' budget.
Ken Ofori-Atta has announced that the government of Ghana has proposed the abolishment of all road tolls in the country.
He also announced the introduction of a 1.75% phone transactions levy payable by mobile money users per transaction above GH¢100.
He stated that the government will construct five interchanges in the Kumasi Metropolitan area in Ashanti Region adding that the government is putting in place measures to handle wasteful tax exemptions going forward.
It has also announced that it will streamline the country's tax regime to prevent large companies from abusing tax exemptions.
Buaben Asamoa speaking on the budget on Accra-based Peace FM said the 'Agyenkwa' budget is a 'turning point' for Ghanaians.
He said the government's introduction of the e-levy will help Ghana to be self-reliant and cut down on its over-dependence on foreign financial aid from the International Monetary Fund (IMF) and the World Bank.
"If we help ourselves to construct our roads, someone will desire to come to Ghana and establish a business and ply that road. If we strengthen ourselves to build our hospitals, someone will desire to access our hospitals to enhance our health tourism and gain benefits to improve our country...If we all unite and accept this e-levy and monitor it well, it will benefit all of us," he said.
Asamoa added: "Ghana can do it. Ghana can end its borrowing...This budget will make us desist from borrowing. This budget can do something new and unique for us to help ourselves."
JOIN OUR PULSE COMMUNITY!
Recommended articles
Citi FM boss Sammens gives NSMQ 2021 star Francisca Lamini GH¢5,000
I will not allow the government to frustrate parliament - Bagbin
2022 budget: Asiedu Nketia was too powerful for NPP MPs - Pelpuo
2022 'Agyenkwa' budget will take Ghana on the path of job creation – Koduah Frimpong
Police officer arrested for sexually harassing woman in a car
Sammy Gyamfi congratulates Parliament for rejecting 2022 'killer' budget
Weed is more important than cocoa - Rastaman tells government
Photos: Deputy Energy Minister and wife celebrate 15 years of marriage
Mahama hands over renovated dormitory block to his alma mater GHANASCO