EC vows to address overcrowding at registration centers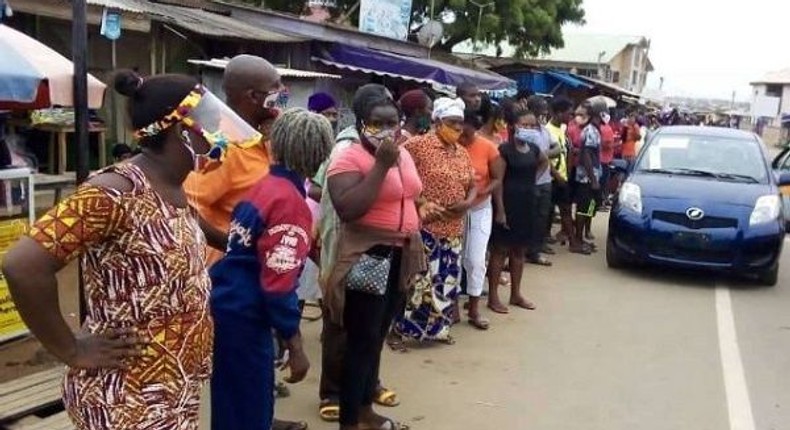 The EC on Tuesday started with the voter registration exercise for the 2020 general elections.
While a lot of Ghanaians have successfully registered, concerns have been raised over non-compliance with social distancing protocols.
Photos and videos on social media showed many registrants overcrowded in queues waiting for their turns.
Reacting to this, the EC said it is aware of the overcrowding at some centers and promised to address the challenge.
"All in all reports reaching the Commission depict a positive turnout at all the registration centres. The Commission is aware that some centers recorded high numbers leading to some overcrowding," the Commission said in a statement.
"We are taking steps to work with the security agencies to address possible overcrowding at our registration centers."
The Commission also clarified that a guarantor can guarantee for ten people without being disenfranchised.
"C.I. 126 expressly states that guarantors can guarantee for up to ten (10) people. They will not be disenfranchised. This is not true."
"However, any individual who guarantees for more than ten (10) persons will be picked up by our system and prosecuted," the EC added.
Recommended articles
Refund Ghc115,000 'illegal mining' money you collected – Destooled chief fights Okyenhene
Let's support gov't to revive Ghana's ailing economy — Mahama pleads
Marriages are collapsing due to the current economic hardships under Akufo-Addo – Ato Forson
Juju man shoots client to death as gunshot resistance charm fails during testing
Court throws out NDC's Techiman South election petition; fines party GHS100,000
EOCO retrieves GHC 27.55 million from criminals in the last 10 months
Police arrest young man for cutting off lady's head at Spintex (video)
You can't be a Catholic and join Freemasons – Bishop jabs Afenyo-Markin
We will reject removal of e-levy threshold – Minority