'I have two wives; you need to be rich to be polygamous' – McDan CEO
Businessman Daniel McKorley is married to two wives…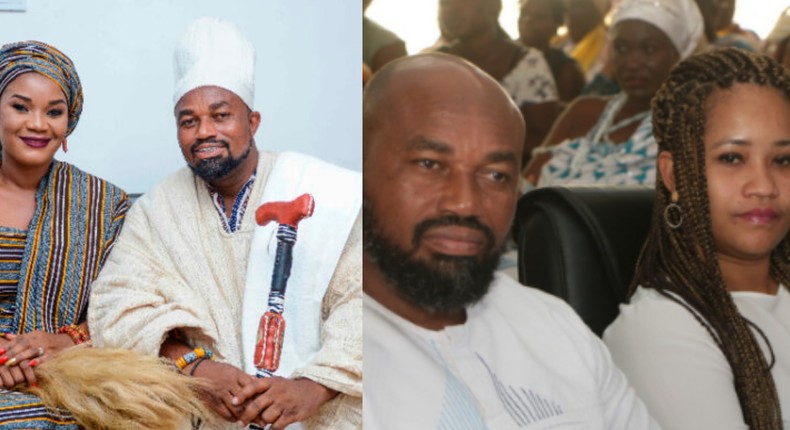 Owner of McDan Group of Companies, Daniel McKorley has admitted that it is very expensive to be polygamous.
The business mogul is himself currently practicing polygamy, having traditionally wedded two women.
Speaking on Metro TV's Good Evening Ghana, Mr. McKorley opened up on his marriage life.
He said he sees nothing wrong with having two wives, insisting there is nowhere in the Bible that God forbids polygamy.
"I have two beautiful wives," he said, further stating: "Show me the Bible where [it is written that] you have to marry one."
Mr. McKorley was, however, quick to point out that it is very expensive to practice polygamy.
According to him, men who wish to marry two wives must ensure that they are well-prepared and have made a lot of money.
"It's expensive, it's very expensive to have two wives. Don't try it if you don't have money. You must be prepared. At times you have to do triple payment because you have to make sure both of them [are okay. Keep them sweet," the McDan CEO admitted.
Touching on how to keep a polygamous home together, he said: "Make sure they (wives) are happy, make sure you are a responsible man. Don't touch what you can manage.
He added: "Women are not to be understood, they are supposed to be cared for. Women are the sweetest thing that ever happened to us [men]."
McKorley is currently the Board Chairman of the Ghana Trade Fair Company Limited (GTFC).
JOIN OUR PULSE COMMUNITY!
Recommended articles
It's disappointing that CHRAJ and NCCE haven't condemned the anti-LGBTQI Bill – Akoto Ampaw
Tattoos, double piercing, scars and stretch marks - Immigration applicants are being disqualified for these factors
Dear employers, we know we're replaceable & jobs are indeed hard to come by (Pulse Contributor)
Akufo-Addo presents 60 vehicles to GAF
NDC presidential primaries: Dr. Duffour releases 'Ghanaian dream' campaign video
Prof. Gyampo jabs Bossman Asare over Mahama's election 2020 comment
Help us clear our $165m judgment debt - UG Vice-Chancellor to Nana Addo
Over 300 Asare Bediako SHS female students to be evicted over unpaid rent
IGP visits night duty officers in Northern and North East Regions